Scrambled Eggs "Orsini" in Pita Bread
by Editorial Staff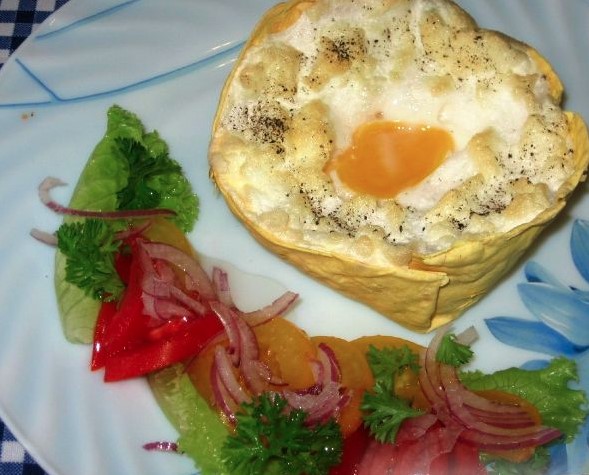 Wonderful, tasty, low-calorie breakfast. Just for women – it is tasty to eat and not to gain weight.
Servings: 1
Ingredients
Small round lavash – 1 pc.
Egg – 1 pc.
Salt
Ground black pepper
Tomato – 1 pc.
Yalta sweet onion – 1/4 pcs.
Lettuce – a few leaves
Vegetable oil – 1 teaspoon
Directions
To make scrambled eggs in pita bread, we need a small baking dish, 10-13 cm in size. I have small split tins. You can use ceramic cups, bowls, muffin tins.

We line the form with pita bread. Separate the whites from the yolk. Beat the protein cool with a pinch of salt.
Fill in the form with protein lavash. In the middle, we make a small depression and carefully lower the yolk there. You can sprinkle the protein with a little grated cheese, but I like it better if it is pepper with black pepper. We put the mold in a large oven preheated to 200 degrees for 8-10 minutes. The yolk should only seize, as in fried eggs, and the protein should be slightly browned.

We take out the pita basket with scrambled eggs from the mold onto a plate. Serve scrambled eggs in pita bread with tomato and onion salad.
Bon Appetit!
Also Like
Comments for "Scrambled Eggs "Orsini" in Pita Bread"