Orsini Scrambled Eggs in the Microwave
by Editorial Staff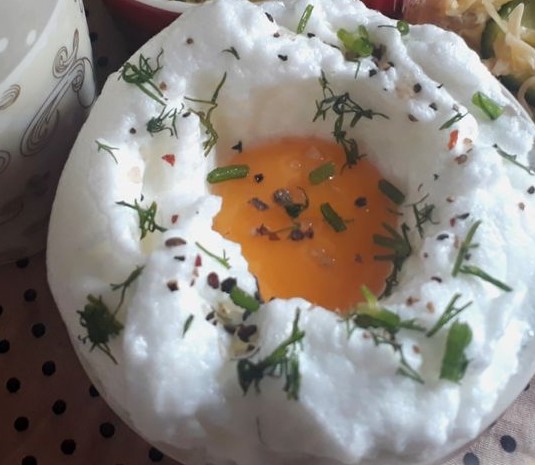 These unusual Orsini scrambled eggs are prepared very quickly and easily in the microwave.
Serving: 1
Ingredients
Egg – 1 pc.
Sliced ​​dill (optional) – 1 pinch
Salt – 1 pinch
Ground pepper – to taste
Oregano, dried (optional) – to taste
Directions
Prepare food.
To cook the Orsini eggs in the microwave, I used ramekin, a portioned ceramic container with straight corrugated walls. You can take any other small container with a volume of about 200 ml that can be placed in the microwave.
Separate the yolk from the protein.

Beat the protein with salt until dense foam. Make sure that the dishes and whisk are dry before whipping.
Place the beaten egg white in the ramekin. Make a depression and place the yolk there. Sprinkle with coarsely ground pepper. Bake in the microwave at minimum power (I have 300 W) for 2 minutes.
Microwaved Orsini eggs are ready. You can sprinkle dill and dried oregano on the eggs before serving. Enjoy your meal!
Also Like
Comments for "Orsini Scrambled Eggs in the Microwave"