Scrambled Eggs with Cheese and Herbs (in the Microwave)
by Editorial Staff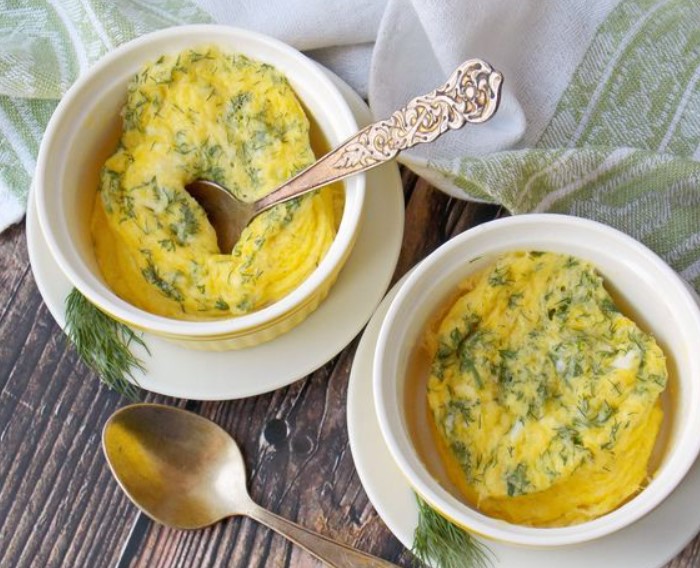 The dream of many is a delicious quick breakfast without much effort. Simple yet original scrambled eggs with cheese and herbs, cooked in the microwave – fast, uncomplicated and very nutritious. A great way to start your day!
Cook: 10 mins
Servings: 2
Ingredients
Eggs – 3 pcs.
Hard cheese – 20 g
Fresh dill – 2 branches
Salt – 1 pinch
Directions
Prepare the food you need to microwave your eggs.
Rinse and dry the dill.

Drive eggs into a deep bowl and shake with a fork until smooth.
Finely chop the dill greens with a knife and send to a bowl of eggs.
Grate the cheese on a fine grater and also send it to a bowl with eggs and dill.
Add salt and mix well.
Pour the egg mass into microwave-safe tins – glass or ceramic, no gilding or metal. I used portioned baking tins, but, if desired, you can use ordinary ceramic tea mugs or cups – as long as they also be without gilding or metal elements.

Send the tins with the egg mixture to the microwave and cook on medium power for about 1 to 2 minutes. If desired, the tins can be covered with a special plastic microwave cover just in case. I cooked eggs in the "Microwave" mode at 600 watts for 2 minutes. After the microwave signal sounds about the end of cooking, do not open the door, but leave the eggs inside for another 3 minutes – due to the residual temperature inside the oven, the eggs will "reach" and cook completely.
Then carefully remove the scrambled eggs from the microwave and serve.
These mouth-watering scrambled eggs with cheese and herbs are best served hot.
Enjoy your meal!
Also Like
Comments for "Scrambled Eggs with Cheese and Herbs (in the Microwave)"