Eggs "Orsini"
by Editorial Staff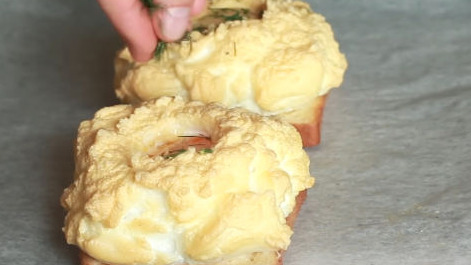 Eggs "Orsini" – breakfast of aristocrats, surprisingly beautiful and unusual dish. This is one of the most spectacular and delicious breakfasts. Of course, this is not done on the run, you need to prepare yourself, "take a bath, make a cup of coffee." Try it if you have time.
Ingredients
White toast bread – 2 slices
Eggs – 2 pcs.
Butter – 10 g
Hard cheese (optional)
Salt to taste
Ground black pepper – to taste
Directions
Preheat the oven to 180 degrees. Spread butter on white bread.
Separate the egg whites from the yolks.
Season the whites with salt, pepper and beat until a good stable foam.
Put the protein mass on the bread and make a spoonful of indentations.

Place the whipped egg whites in the preheated oven for 3 minutes.
Take out the baking sheet. Put the yolks in the grooves in the whites. Sprinkle with cheese if desired.

Add a small piece of butter each.
Place the Orsini eggs in the oven on the lowest level for about 7-10 minutes. (If you like raw yolk, you can shorten the time.)
When ready, the Orsini eggs can be garnished with fresh herbs on top.
Bon Appetit!
Also Like
Comments for "Eggs "Orsini""