Fried Eggs in Pita Bread with Ham and Cheese (in the Oven)
by Editorial Staff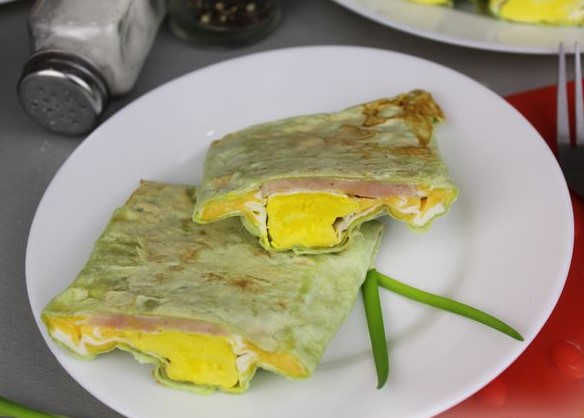 An easy to prepare but very unusual breakfast – scrambled eggs in pita bread with ham and cheese, which is baked in the oven. The perfect start to the day! For the sake of such a breakfast, I am ready to wake up even at the earliest!
Ingredients
Thin lavash (round 22 cm in diameter or rectangular 30×15) – 2 sheets
Ham – 4 slices
Hard cheese – 100 g
Eggs – 2 pcs.
Salt – 2 pinches
Ground black pepper – to taste
Directions
Grate cheese on a coarse grater. Sprinkle the foil with water (be sure, otherwise the lavash will stick) and put a round sheet of lavash with a diameter of 22 cm on it. Put two slices of ham on the lavash, close to each other.
Sprinkle the ham with grated cheese, leaving the center free. Carefully break the egg and place the contents of the shell in the resulting depression, being careful not to damage the yolk.

Sprinkle with cheese on top. Gently cover the filling with pita bread on both sides. Then tuck the side edges of the pita bread, forming an envelope.
Wrap the egg tightly in foil to keep the egg intact. You can do exactly the same with a rectangular (30×15) lavash, but I prefer a round one since such an amount of lavash is minimized.

Send pita bread with ham, eggs, and cheese to the oven and bake until the yolk is ready to the desired degree (10 minutes – so that the yolk remains liquid, 25 minutes – until the yolk is fully cooked). After a while, release the envelopes from the pita bread with the filling from the foil.

Cut each envelope in half. Serve scrambled eggs in pita bread with ham and cheese to the table with fresh vegetables. Bon Appetit!
Also Like
Comments for "Fried Eggs in Pita Bread with Ham and Cheese (in the Oven)"