Fish Baked with Zucchini and Tomatoes
by Editorial Staff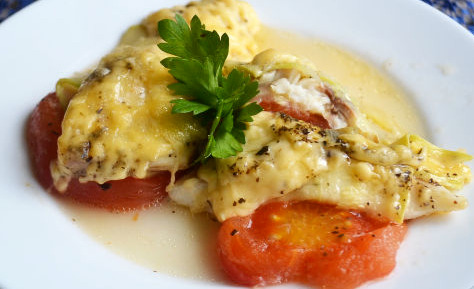 Recipe for a delicious fish with vegetables. The fish is wrapped in zucchini slices and baked on a tomato pillow. Hard cheese adds piquancy to zucchini rolls with fish.
Cook: 40 minutes
Servings: 4
Ingredients
Fillet of white fish (tilapia or cod, hake, etc.) – 500 g
Zucchini (medium size) – 1 pc.
Tomatoes – 2 pcs.
Hard cheese (preferably salty) – 100 g
Vegetable oil – 3 tbsp
Dry basil – 1 teaspoon
Salt to taste
Ground black pepper – to taste
How to cook baked fish with zucchini and tomatoes:
Directions
We make cross-shaped cuts on the skin of the tomatoes and lower the tomatoes in boiling water for 1-2 minutes.
Then we take the tomatoes out of the water and peel them off. Cut the peeled tomatoes into small pieces.
Cut the fish fillet into small pieces.

Wash the zucchini and cut it into thin slices with a vegetable peeler.
Salt and pepper the fish to taste. We wrap the fish slices in zucchini slices.
Put tomato slices in a heat-resistant baking dish.
We put envelopes (rolls) of zucchini with fish on the tomatoes.
Sprinkle with dry basil
Pour vegetable oil over the vegetable oil.
Sprinkle with coarse grated hard cheese.
We bake fish with zucchini, tomatoes, and cheese in an oven preheated to 200-220 degrees for 15-20 minutes.
Enjoy your meal!
Also Like
Comments for "Fish Baked with Zucchini and Tomatoes"