Fish Baked in Tomato Sauce
by Editorial Staff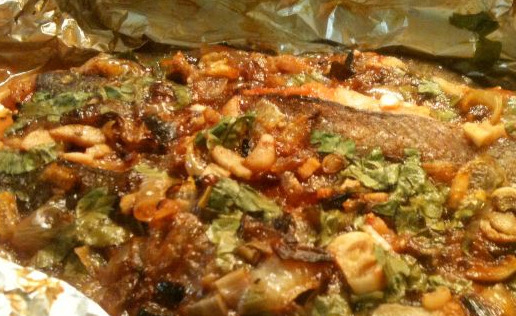 Fish baked in tomato sauce is too easy to cook according to this recipe. You can take any fish for this dish. The main thing is that the fillet is boneless.
Cook: 1 hour 10 minutes
Servings: 2
Ingredients
Fish (hake fillet) – 300 g
Bulb onions – 1 pc.
Vegetable oil – 2 tbsp
Parsley – 1-2 sprigs
Garlic – 1-2 cloves
Tomato paste – 1 tbsp
Water – 40-50 ml
Lemon – 0.5 pcs.
How to bake fish in tomato sauce:
Directions
Prepare the sauce: pour over the tomato paste with water, salt, and pepper and mix thoroughly.
Peel and chop the garlic, chop the parsley. Squeeze out the lemon juice.
Peel and chop the onion.
Fry it in oil. To do this, heat oil in a frying pan (1 tablespoon), put onions, fry over medium heat, stirring occasionally, until golden brown (5-7 minutes).
Turn on the oven. Grease a deep frying pan or baking dish with the remaining oil (you can also cover it with foil), put the fish in it, salt and pepper.
Put the fried onion on top (along with the oil in which it was fried). Mix the tomato sauce with parsley and garlic, and water with lemon juice, pour the tomato sauce and water into the fish dish.

Cover with a lid or foil and bake the fish in the oven over high heat (190 degrees) for 30 minutes. Then remove the lid and leave the pan in the oven over medium heat (170 degrees) for another 20 minutes. The fish baked in the oven in tomato sauce is ready.

Put the fish baked in tomato sauce on a heated dish, garnish with parsley or a slice of lemon.
Enjoy your meal!
Also Like
Comments for "Fish Baked in Tomato Sauce"