Strudel
by Editorial Staff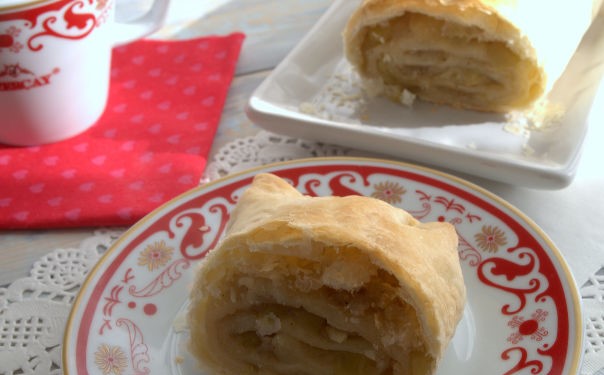 An interesting, very simple way to make strudel. This strudel recipe is for those who do not like to fiddle with the dough for a long time since frozen puff pastry is used to make a roll. Fried apples are used as a filling.
Ingredients
Puff pastry (ready-made, defrosted) – 300 g
Apples – 4 pcs.
Sugar – 3/4 cup
Cinnamon – a pinch
Clove – a pinch
Butter – 2 tablespoons
Nuts – 100 g
Directions
For the filling, we use dense apples with a pronounced taste and aroma.

While the dough is defrosting, prepare the filling. Grind the apples into small cubes. Add the recommended amount of sugar and butter.
We cook the mass for 12-15 minutes, stirring it from time to time with a wooden spatula, add spices. We are waiting for the filling to cool down.
Using a kitchen rolling pin, stretch the puff pastry, pierce it with a fork (so as not to "bubble" during baking).
We spread the chopped nuts on the cake.
We cover the blank for strudel with apple mass.

We turn it into a roll, put it on a mould, cook for 10 minutes at a temperature of 210 degrees.
Reduce the heat to 180 degrees, wait another 15-20 minutes.
Cut the finished strudel with "fried" apples into portions.

Serve with a cappuccino, tea with oregano, berry jelly, etc.
Bon Appetit!
Also Like
Comments for "Strudel"