Hibiscus Tea with Milk
by Editorial Staff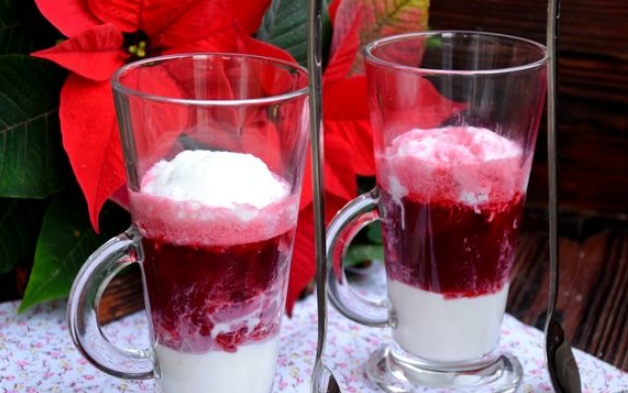 A bright and original drink is hibiscus tea with milk. Stirring tea turns into "dancing" tea because snow-white milk mixes beautifully with a rich dark-crimson hibiscus color. This warming drink is a great alternative to mulled wine!
Cook: 10 min.
Servings: 2
Ingredients
Milk – 150 ml
Hibiscus tea – 2 teaspoon (5 g)
Drinking water – 150 ml
Sugar – 2 teaspoon
Directions
If desired, sugar can be replaced with honey.
Put the hibiscus in a saucepan or saucepan, add sugar, and cover with water (about 150 ml). Put on maximum heat, stir and bring to a boil.
Then reduce heat to low and simmer for about 5 minutes. Then strain from the flowers and pour into a glass.
Pour milk into a saucepan or saucepan, set to maximum heat, and bring to a boil.
Whisk the hot milk until frothy with a mixer or hand blender.
Pour the frothed milk into the serving glasses.
Collect hibiscus tea with a tablespoon and pour it into the milk so that the tea flows from the spoon along the edge of the glass and does not mix with the milk.
It turns out three layers of the drink – the bottom dense layer of warm milk, in the middle there is a bright hibiscus, and on top is a delicate milk foam.
Slightly sweet, rich, and delicate at the same time, this "latte carcade" is original and very unusual.
And when you mix all three layers with a spoon, you will understand why this tea is called "dancing" – two colors mix very beautifully in a beautiful "dance".
Also Like
Comments for "Hibiscus Tea with Milk"