Lavash Envelopes Stuffed with Hibiscus and Vegetables
by Editorial Staff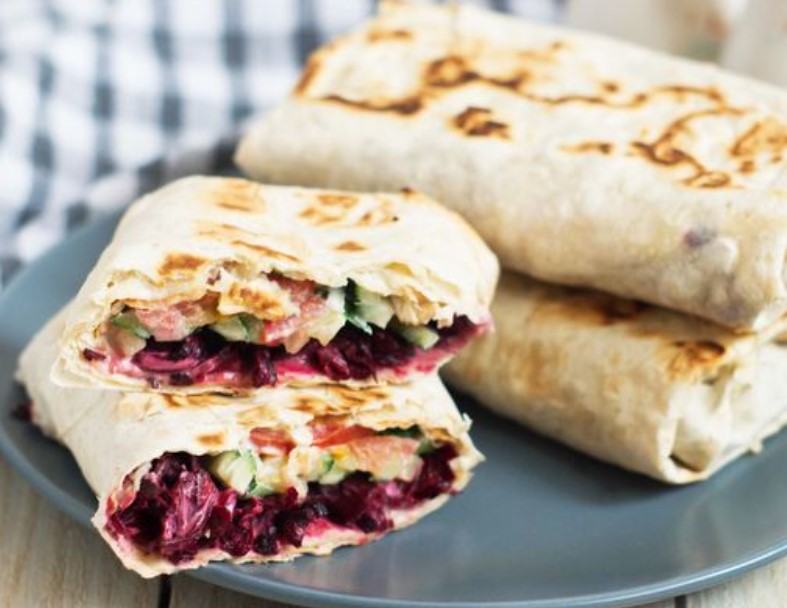 A great idea for lovers of culinary experiments – unusual pita envelopes stuffed with hibiscus and vegetables. Dried hibiscus flowers, from which the famous drink is prepared, is an interesting alternative for those who do not like meat in shawarma. Crispy pita bread, vegetables, garlic sauce and herbs go well with fried hibiscus flowers – the recipe for such an original snack is definitely worth taking note of!
Cook: 30 mins
Servings: 4
Ingredients
Lavash – 4 sheets (26×26 cm)
Hibiscus (dried hibiscus flowers) – 60 g
Cucumbers – 80 g
Tomato – 70 g
Fresh parsley – 10 g
Smoked paprika ground – 1/4 teaspoon
Zira (seeds) – 1/4 teaspoon
Dried Provencal herbs – 1/4 teaspoon
Dried granulated garlic – 1/4 teaspoon
Salt – 1/2 teaspoon
Ground black pepper – on the tip of a knife
Vegetable oil (for frying) – 1-2 tbsp
For the sauce:
Sour cream 20% fat – 50 g
Mayonnaise – 50 g
Kefir with a fat content of 2.5% – 60 ml
Garlic – 1 clove
Salt – 1/2 teaspoon
Ground black pepper – on the tip of a knife
Directions
Prepare foods on the list. Wash and dry cucumbers, tomatoes and herbs.

Rinse the hibiscus in warm water, place in a saucepan and cover with water. Since we don't need the broth, but it can be used to make compotes, punches, or just drink it like tea, adding sugar or honey, the proportion of water and hibiscus can be chosen to your taste. Set the pot to maximum heat and bring the water to a boil. Then reduce heat to low and simmer for about 8-10 minutes. Drain the resulting broth and use at your discretion.
Heat vegetable oil in a skillet over medium heat. Lightly dry the boiled hibiscus flowers with a paper napkin, put in a pan and, stirring often, fry for about 3-4 minutes. Add paprika, dried garlic, cumin, Provencal herbs, salt and black pepper, stir, remove from heat and leave to cool.
Prepare the sauce: in a deep bowl, combine sour cream, mayonnaise, kefir, salt and black pepper. Peel the garlic, chop finely and send to a bowl.
Mix thoroughly until smooth.
Cut the cucumbers lengthwise into thin strips about 5 cm long. Cut the tomatoes into small slices. Chop the parsley finely with a knife.
Lubricate a sheet of pita bread with about 2-3 tbsp of sauce. Put about a quarter of the cooled hibiscus flowers, a quarter of chopped cucumbers, a quarter of tomatoes on one of the edges of the greased pita bread and sprinkle with parsley. Pour 1-2 tablespoon of the filling on top. spoons of sauce.

Gently fold the edge of the pita bread inside and fold the envelope (like a shawarma). Do this with all the pita bread and filling.
Fry the filled envelopes in a dry skillet over medium heat, pressing lightly with a spatula, for about 60-90 seconds on each side, until golden brown.
Lavash envelopes stuffed with hibiscus and vegetables are ready! They can be served immediately after cooking.
Enjoy your meal!
Also Like
Comments for "Lavash Envelopes Stuffed with Hibiscus and Vegetables"