Lean Hibiscus Tea Jelly
by Editorial Staff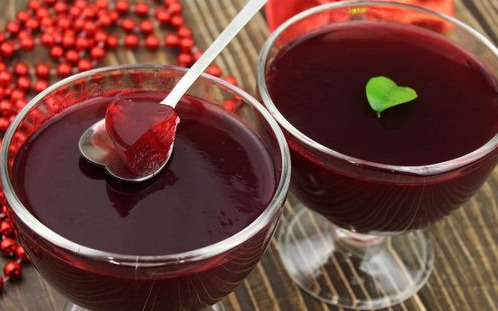 Even on fasting days, you can indulge yourself in the pleasure of eating jelly. After all, it can be prepared not only from a product of animal origin – gelatin but also from its vegetable analog – agar-agar. Lean jelly will not upset you in the least, especially if you make it from hibiscus tea. Attractive ruby ​​color, sweet and sour taste, and quick preparation – enough conviction to prepare such a delicious, beautiful, and economical dessert.
Cook: 1 hour 20 minutes
Ingredients
Hibiscus tea – 20 g
Sugar – 70 g
Agar-agar (with gel strength 1200) – 6 g
Water – 600 ml
Directions
We prepare products according to the list. You can take more or less sugar, according to your taste, or even replace it with honey. I used agar with a gel strength of 1200. If you have a lower gel strength, please note that the amount of agar will need to be increased (refer to the instructions on the package). In this case, the recipe requires 6 g of agar with a strength of 1200 blooms, but if you have agar, for example, 900, then you need to recalculate: divide the required gel strength by the available one (1200 ÷ 900 = 1.3), then multiply the resulting figure the amount of agar from the recipe (6×1.3 = 7.8). Thus, we determined that agar with a gel strength of 900 blooms would need to be taken about 8 g.
Pour water (600 ml) into a saucepan or kettle and bring to a boil. Fill the agar with half boiling water (300 ml) and leave for 10-15 minutes.
Combine hibiscus and sugar in a deep bowl or large mug.
Pour the remaining boiling water over the hibiscus and leave for 5 minutes.
After a while, we filter the tea through a sieve.
We send a mixture of agar-agar and water to a saucepan, put on a small fire, and, stirring constantly, heat until the agar is completely dissolved (about 5 minutes).
Pour hibiscus tea into a stewpan with agar-agar. Boil on low heat for another 2-3 minutes, stirring occasionally.
The resulting mixture, while it is still hot, is poured into bowls, glasses, or silicone molds.
I used 300 ml of bowls.
Leave the jelly on the table until it hardens completely, for about 1 hour. It is not necessary to send it to the refrigerator – jelly on agar-agar solidifies perfectly at room temperature.
Serve lean hibiscus jelly to the table, decorating with leaves of dessert greens (mint, rosemary, lemon tree leaves, etc.). If desired, you can dip the jelly molds briefly in hot water and turn the jelly onto a flat plate.
Bon Appetit!
Also Like
Comments for "Lean Hibiscus Tea Jelly"