Tea Jelly with Banana and Pineapple
by Editorial Staff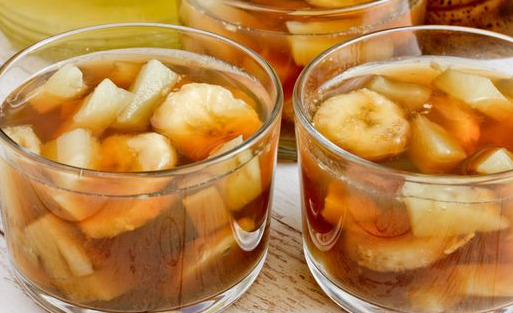 Fruit in tea jelly is a great dessert for those who want to treat themselves and their loved ones to something tasty, but try to avoid excess calories. Fruit can be taken according to your taste and season. I have a banana and canned pineapple this time. The dessert is light, interesting, effective, and will appeal to both adults and children.
Cook: 2 hours 20 minutes
Servings: 3
Ingredients
Black leaf tea – 3 teaspoon
Banana – 1 pc.
Canned pineapple – 100 g
Sugar – 2.5 tbsp
Lemon juice – 1/2 tbsp
Instant gelatin – 5 g
Directions
Pour black leaf tea into a teapot and pour 300 ml of boiling water. Leave the tea to infuse for 3 minutes.
Then strain the brewed tea so that the leaves do not come across in the jelly.
Add sugar to taste and lemon juice to the tea for a slightly sour taste.
Pour gelatin into a small container and pour 1 tablespoon. a spoon of cold water.
Leave the gelatin on for 10 minutes to swell. Then melt it in the microwave, literally 5-10 seconds, without letting it boil.
Pour gelatin into hot tea and mix thoroughly. Leave the tea to cool to room temperature.
Peel the banana and cut it into slices.
Cut the canned pineapple rings into cubes.
Arrange fruit in clear glasses or bowls.
Pour the tea with gelatin over the fruit.
Place glasses of tea jelly with banana and pineapple in the refrigerator until it solidifies completely (about 2 hours).
Enjoy your meal!
Also Like
Comments for "Tea Jelly with Banana and Pineapple"