Hibiscus Jelly with Mandarin Slices
by Editorial Staff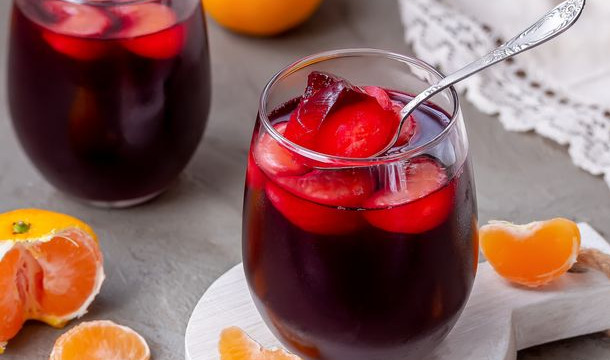 Unusual jelly from hibiscus tea with tangerines is a godsend for cases when you want to pamper yourself with delicious food without harming your figure. Try this easy dessert!
Cook: 4 hours 15 minutes
Servings: 2
Ingredients
Hibiscus tea – 4 tbsp (30 g)
Mandarins – 1-2 pcs. (100-150 g)
Gelatin – 15 g
Honey or sugar – 70-130 g (to taste)
Water – 500 ml
Directions
Bring 500 ml of water to a boil using any convenient method. Pour hibiscus tea into a deep container and pour half of the boiling water (250 ml). Cover with a plate or lid and leave the tea for about 10 minutes.
Pour instant gelatin into a separate container. Pour the remaining 250 ml of boiling water over the gelatin and stir until the granules are completely dissolved.
Strain the infused hibiscus tea into a separate container. Remove the hibiscus flowers – we don't need them, use them as you see fit.
Add water with gelatin and honey to the prepared concentrated tea. Chill the mixture slightly.
Peel the tangerine and take it into wedges. Place the tangerine wedges in the bottom of glasses or portion molds. I use 300 ml glasses.
Pour the prepared mixture of hibiscus tea, gelatin, and honey into glasses. Cool the jelly to room temperature, and then place in the refrigerator for another 2-3 hours for final solidification.
Enjoy your meal!
Also Like
Comments for "Hibiscus Jelly with Mandarin Slices"