Lenten Muffins with Cocoa and Green Tea
by Editorial Staff
Simple and delicious pastries that are perfect for a lean table – fragrant cupcakes with cocoa and green tea. These veggie muffins are super easy and quick to make – a great addition to tea or coffee!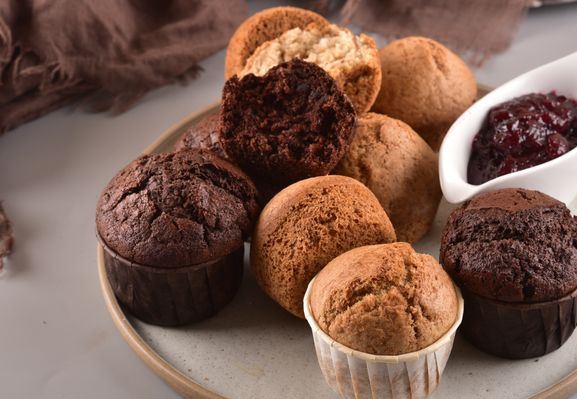 Ingredients
Flour – 260 g
Sugar – 180-200 g
Boiled water (warm) – 220 ml
Cocoa powder – 1 tbsp
Green tea – 1 teaspoon
Vegetable oil – 3-4 tbsp (60 ml)
Soda – 1 teaspoon
Vinegar 6% – 1 teaspoon
Directions
We prepare products according to the list. From the indicated amount, I got 12 cupcakes. Green tea is best taken in small fractions. If you have leafy green tea, grind it in a coffee grinder, mortar or blender bowl. Such lean muffins are prepared very quickly, so it is best to turn on the oven in advance to warm up to a temperature of 200 degrees.
Divide the flour and sugar in half and put them in pairs in two separate deep bowls.
Pour cocoa into one bowl with flour and sugar, and green tea into the other. We mix.
Pour 110 ml of warm water (35-36 degrees) into each bowl. Mix thoroughly.

Pour 30 ml of vegetable oil into each bowl. We mix.
We extinguish half a teaspoon of baking soda with half a teaspoon of vinegar and add to one bowl. We extinguish the remaining soda with the remaining vinegar and send it to another bowl. Mix the contents of each bowl thoroughly.
We put a paper mold in each cell of the cupcake mold. If you have silicone molds, you can skip this. We lay out both types of dough in tins, filling them by about 2/3. I put the chocolate and "tea" dough into the trays separately, but if you wish, you can fill each compartment half with one dough and half with the other. We bake the kesiki in the oven, preheated to 200 degrees, for about 25-30 minutes.
Fragrant lean muffins with cocoa and green tea are ready. We serve them to the table, adding jam if desired.
Also Like
Comments for "Lenten Muffins with Cocoa and Green Tea"