Lenten Rassolnik
by Editorial Staff
This rassolnik is cooked with pikeperch. The taste is very delicious, and you can feel both the fish and pickles. And pearl barley provides nourishing value and thickness.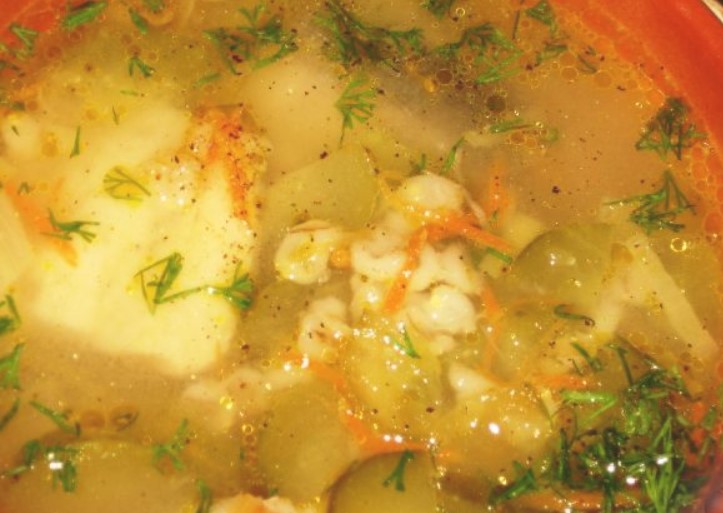 Cook: 1 hr 15 mins
Servings: 8
Ingredients
Pikeperch – 500 g
Pearl barley – 100 g
Pickles – 3-4 pcs. (depending on the size)
Carrots – 1 pc.
Parsley root – 1 pc.
Leek – 1 pc. (the white part)
Vegetable oil – 2 tablespoon.
Chopped dill – 2 tablespoon.
Salt – to taste
Bay leaves – 1 pc.
Peppercorns – 5-6 pcs.
Pepper – to taste
How to cook a rassolnik with pearl barley:
Directions
Wash the fish. Pour 2.5 liters of water and cook it for 30 minutes.

Strain the broth, clean the fish from its bones. If you have a fish fillet, then cut it into pieces, pour water over it, and cook for 30 minutes.
Meanwhile, cook the pearl barley separately. Rinse it, pour water over it, and simmer for 30-35 minutes.
Cut the leek into half rings.
Cut the carrot and parsley root into strips.
Cut the cucumbers lengthwise into four pieces and then into slices.

Brown the vegetables. Add the pickles and 1-2 ladles of broth from the soup. Cover the lid and stew everything slowly for 15 minutes.

Put the cooked pearl barley and the contents of the pan in the pot with fish. Add the bay leaf and peppers. Simmer the lean rassolnik with barley for 7-10 minutes. Salt to taste.

Before serving, sprinkle the lenten rassolnik with chopped dill and pepper if desired.
Enjoy your meal!
Also Like
Comments for "Lenten Rassolnik"