Lenten Rassolnik with Olives and Prunes
by Editorial Staff
Despite the lack of meat in this recipe, a lenten rassolnik with barley is quite thick, has a pleasant flavor and memorable taste. Olives, prunes, and, of course, barrel pickles are the bright accents in this soup. The rassolnik with olives and prunes will perfectly warm and fill you up.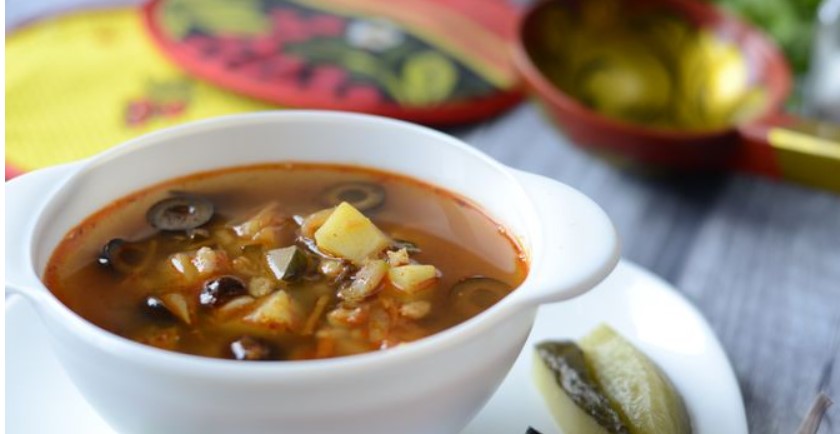 Cook: 60 mins
Servings: 7
Ingredients
Olives – 100 g
Prunes – 10 pcs.
Pearl barley – 100 g
Barrel pickled cucumbers – 4-5 pcs.
Potatoes – 3 pcs.
Onions – 1 pc.
Carrots – 1 pc.
Parsley (stalks) – 10 twigs
Stalk celery with leaves – 2 stalks
Tomato paste – 1 tablespoon.
Dried dill – 1 pinch
Bay leaves – 2 pcs.
Peppercorns – 3-5 pcs.
Pepper – to taste
Vegetable oil – 2 tablespoon.
Salt – to taste
Directions
Soak the pearl barley in cold water for 4-6 hours in advance to reduce its cooking time.
Rinse the pearl barley thoroughly, pour cold water in a ratio of 1:3, and simmer for 20-25 minutes after boiling.
Dice the potatoes.
Tie the celery and parsley stalks with a clean thread.
Put the herbs, potatoes, bay leaves, and peppercorns in a separate saucepan. Pour 2.5 liters of water and simmer the vegetable broth for 20 minutes after boiling.

Chop the onion and grate the carrot on a fine grater.
Fry the onions and carrots in a heated frying pan with vegetable oil for 3-5 minutes stirring occasionally.
Put the tomato paste in a frying pan. Stir and stew the vegetables for another 3-5 minutes.
Cut the olives in half.
Cut the cucumbers into small cubes.
Cut the prunes into small pieces.

Put the olives, cucumbers, and prunes in a frying pan as well.

Sprinkle with ground pepper and dried dill. Stir and warm all together for 2 minutes.
Take the herbs, bay leaves, and peppercorns out of the broth.
Put the cooked barley in the saucepan. Salt to taste.
Add the fried-up vegetables to the soup with pearl barley. Simmer the rassolnik for 3 minutes. Switch off the heating.
The lenten rassolnik with olives and prunes is done.
Enjoy your meal!
Also Like
Comments for "Lenten Rassolnik with Olives and Prunes"