Rassolnik with Buckwheat
by Editorial Staff
It is known that every rassolnik contains pickles and, as a rule, their brine. The rest of the ingredients (meat and cereals) are added if desired. So I propose to cook a very interesting variant of rassolnik with buckwheat that you and your family will definitely like the recipe for which my friend shared with me.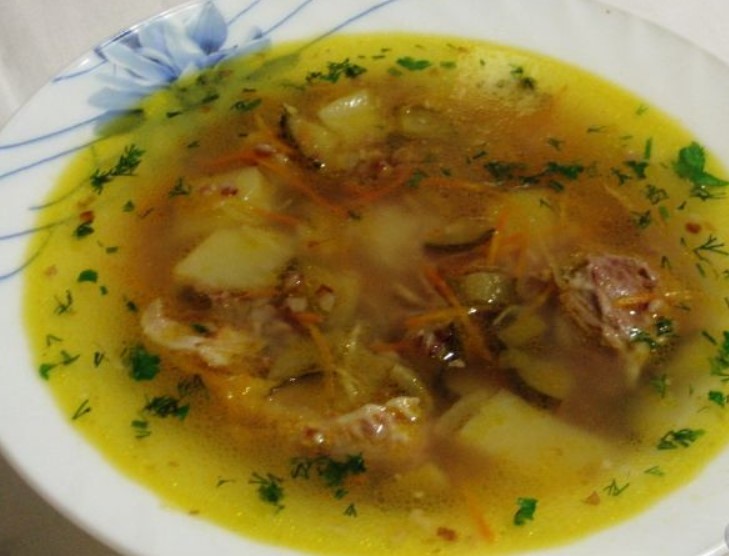 Ingredients
Pork meat and bone – 500 g
Potatoes – 400 g
Pickles – 5 pcs.
Brine – 250 ml
Carrots – 1 pc.
Onions – 1 pc.
Celery root – a small piece up to 50 g
Parsley root – 1 small piece
Butter or other fat – 75 g
Boiled buckwheat – 300 g
Salt
Pepper
Peppercorns – 6-8 units.
Bay leaves – 2 pcs.
Parsley and dill
How to cook a rassolnik with buckwheat:
Directions
Pour 3 liters of water over the meat and bring it to a boil. Skim the scum, put bay leaves and peppercorns in, and cook until the meat is done. Take out the meat and, when it cools down, separate it from the bones. Then return the meat to the rassolnik.
Prepare the vegetables. Peel the potatoes, carrot, onion, parsley and celery roots. Cut the potatoes into dice, finely chop the onion. Grate the carrot, parsley and celery roots. Cut the pickles lengthwise into 4 parts and then into slices.

Saute the onion in heated oil, then add the carrot and roots of parsley and celery. Fry all together stirring occasionally for 4-5 minutes.

Add the pickles, pour 2 ladles of broth into the frying pan, and stew them for 20 minutes under a lid over medium heat.

Add the potatoes to the boiling broth and simmer for 15 minutes.
Add the vegetables and buckwheat. Cook everything for 5 minutes. It is not necessary to add cooked buckwheat. You can add cereal itself but together with potatoes. In this way, your rassolnik will have a more buckwheat taste.
Pour the brine into the saucepan and bring it to a boil. Now salt the rassolnik to taste and sprinkle it with the chopped fresh herbs.
You can add pepper to taste to your bowl.
The rassolnik with buckwheat is ready.
Enjoy your meal!
Also Like
Comments for "Rassolnik with Buckwheat"