Rassolnik with Fish and Rice
by Editorial Staff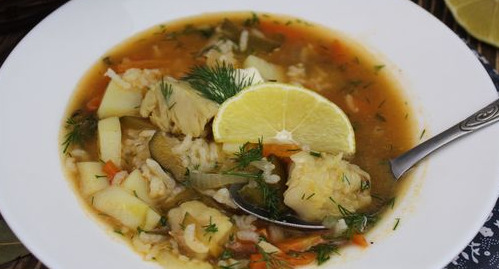 Rassolnik is not a new dish for a long time, which is quite often found on the dinner table. But rassolnik with fish became an invention for me! Delicate fish fillets and rassolnik is a great combination. Among the cereals that are added to the rassolnik, I opted for rice. And not without potatoes! It turned out to be a rich and satisfying first course!
Ingredients
Fish fillet (I have a hake) – 400 g
Pickled cucumbers – 150 g
Rice – 75 g
Potatoes – 150 g (2 pcs.)
Carrots – 100 g (1 pc.)
Bulb onions – 100 g (1 pc.)
Vegetable oil – 30 ml
Tomato paste – 15 g
Fresh dill – 1 bunch
Bay leaf – 2 pcs.
Black peppercorns – 3-4 pcs.
Allspice peas – 2 pcs.
Salt – 1 teaspoon (to taste)
Ground black pepper – to taste
Water – 1.5 l
Directions
Put the fish in a saucepan and cover with cold water (1.5 l). Add bay leaves and black and allspice peas. Bring water to a boil over high heat, remove the foam with a slotted spoon. Boil the fish broth over low heat for 20 minutes.
Cut the peeled onion into quarters. Cut the peeled carrots and pickles separately into strips. Cut the peeled potatoes into cubes.

Heat vegetable oil in a frying pan and lightly fry the onions and carrots over medium heat for 3-4 minutes. Stir occasionally.
Rinse the rice by changing the water several times. After 20 minutes of boiling the broth, add the rice to the saucepan.
Send potatoes there.
Add sauteed carrots and onions.
Get the fish out of the soup. Return the pot to the fire. Bring the soup to a boil, cover, and cook over medium heat for 15 minutes.
Put the cucumbers in the pan in which the carrots and onions were fried. Add tomato paste and pour 100 ml of broth from a saucepan. Simmer over medium heat for 10 minutes.
Add cucumbers with tomato paste to the fish soup and cook for another 10 minutes.
Disassemble the fish into small pieces, simultaneously removing the skin, fins, and bones, if any. Return the fish to the rassolnik.
Finely chop the dill and add to the soup. Add salt and black pepper to taste. Mix. Remove from heat. Cover the pan with a lid and leave for 10 minutes to brew the rassolnik.

Serve fish rassolnik with sour cream and a lemon wedge.
Enjoy your meal!
Also Like
Comments for "Rassolnik with Fish and Rice"