Fish Soup with Rice
by Editorial Staff
We cook light, tasty, and healthy soup with rice using sea fish broth.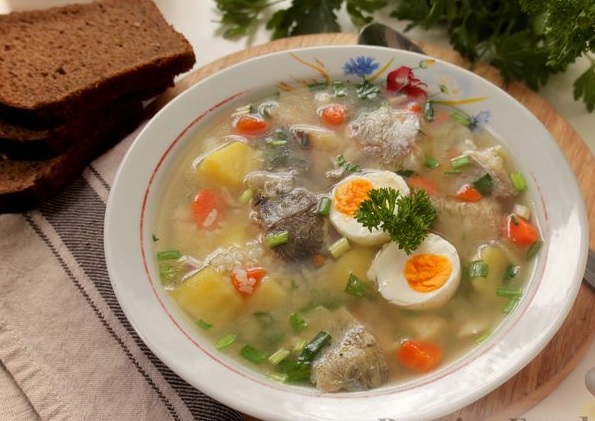 Ingredients
Pollock – 400-800 g
Rice – 4 tbsp
Potatoes – 3-4 pcs.
Carrots – 1 pc.
Bulb onions – 1 pc.
Garlic – 1 clove
Fresh greens (green onions, parsley) – 40 g
Bay leaf – 2 pcs.
Salt to taste
Ground black pepper – to taste
Eggs (hard-boiled, for serving) – 2 pcs.
Water – 1.7 l
Directions
Take the groceries on the list. If you want a soup that is tastier, add more fish.

Bring water to a boil in a saucepan. Cut the peeled onion into cubes and place in a saucepan. Cook for 5-10 minutes. Onions will give the future fish broth aroma.
Cut the pollock into large pieces. Remove the black film from the abdomen and also remove the insides. Rinse the fish.
Place the fish slices in a pot of boiling onions and simmer for 20 minutes, continuing to simmer. Collect any fish foam that forms on the surface.
Cut the peeled carrots into quarters and send them to the pan after the fish.
Take out the boiled fish pieces and separate the meat from the bones.
Cut the peeled potatoes into cubes and add to the stock.
And then washed rice. Bring to a boil and cook until tender, about 15 minutes.
Return the boiled fish meat to the pan.
Finely chop the peeled garlic.
Pour salt, black pepper into a saucepan, add chopped garlic and bay leaf. Boil for 5 minutes.
At the end of cooking, chop the fresh herbs and add them to the saucepan. Turn off the heat and let the soup sit for 5 minutes.

Serve fish soup with boiled egg halves. Bon Appetit!
Also Like
Comments for "Fish Soup with Rice"