Pies with Fish and Rice
by Editorial Staff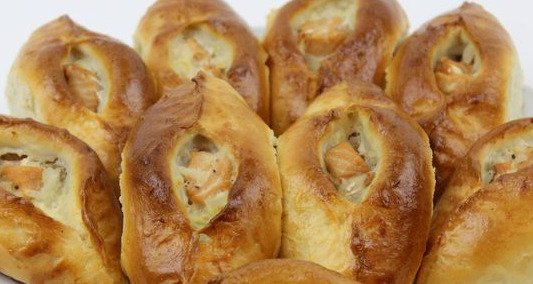 Fish and rice pies are delicious "unbuttoned" pies. Soft tender dough and juicy tasty filling.
Ingredients
For the test:
Milk – 200 ml
Wheat flour – 320 g (2 glasses) + for working with dough
Vegetable oil – 2 tbsp + for working with dough
Dry yeast – 1 tbsp
Sugar – 1 tbsp
Salt – 1 teaspoon

For filling:

Fish fillet (salmon) – 400 g
Bulb onions – 1 pc.
Boiled rice – 0.5 cups
or raw rice – 40-50 g
Vegetable oil – 2 tbsp
Butter – 20 g
Salt to taste
Ground black pepper – to taste

To grease the pies:

Egg – 1 pc.
Milk – 1 teaspoon
Directions
Cooking the dough. In a bowl, mix yeast, salt, sugar, and flour (3 tablespoons). Add warm (not hot!) Milk, mix. Cover the bowl with a napkin and leave the dough in a warm place for 20 minutes.
When the dough comes up (covered with bubbles), add the vegetable oil and the remaining flour. We mix.
Knead the dough (knead for about 10 minutes). The dough will be soft and manageable.
Grease the cup with vegetable oil. We form a ball out of the dough, put it in a cup, cover it with a film or a plastic bag, and put it in a warm place for about 1 hour to rise.
Cooking the filling. Rice (be sure to take non-steamed round grain) set in advance to boil in salted water. Cook the rice over low heat for 20 minutes. Remove all bones from the fish fillet. Cut the fillet into small pieces.

Peel the onion, cut into small cubes and fry in a mixture of vegetable and butter until transparent. You do not need to deeply fry the onion.
Combine boiled rice and onion with butter in a cup, mix. Add fish, salt, and pepper. If desired, you can add parsley or dill to the filling. We mix. The fish filling for the pies is ready.
Lightly knead the dough, grease your hands with vegetable oil, and put on a table sprinkled with flour. Divide the dough into 2 parts. We divide each part of the dough into 5-6 more pieces. Roll the dough pieces into balls.
Roll each ball of dough with a rolling pin to make a cake. Put about one tablespoon of the filling on the cakes.
We turn on the oven, let it heat up to 180 degrees. Cover the baking sheet with parchment or grease with vegetable oil. We spread the pies on a baking sheet. Cover with a towel or napkin and leave for 5-10 minutes for the dough to come up.
Combine the egg with one teaspoon of milk and mix with a fork.

Lubricate the pies with a mixture of eggs and milk.
We bake pies with fish and rice in a preheated oven at 180 degrees for 20-30 minutes.
Enjoy your meal!
Also Like
Comments for "Pies with Fish and Rice"