Filling For Pies with Liver and Rice
by Editorial Staff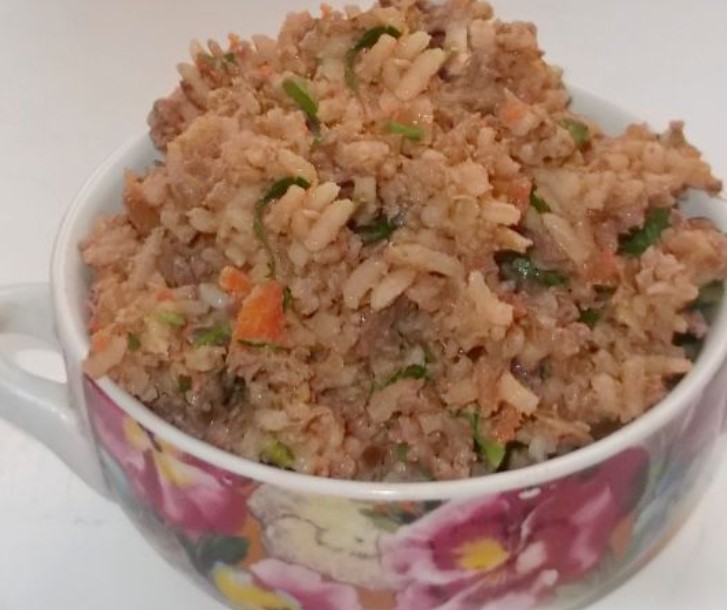 Pies with liver and rice are tasty, satisfyin
Cook: 30 mins
Ingredients
Liver – 170-200 g
Rice – 100 g
Carrots – 1 pc.
Onions – 1 pc.
Parsley greens – 0.5 bunch
Salt – 1 teaspoon
Pepper – 1-2 pinches
Vegetable oil – 2 tbsp
Directions
Prepare food.
Pour the rice with plenty of water (2-3 glasses). Bring to a boil, salt (0.5 teaspoon), reduce heat, cook for 10 minutes. Then rinse the rice.
Wash the carrots, cover with water. Boil the carrots until tender (30 minutes). Peel and slice.
Cut the liver into small pieces.
Heat 2 tablespoon in a skillet. tablespoons of vegetable oil. Lay out the liver, fry over medium heat, salt and pepper (one pinch of salt and pepper each), until golden brown on all sides (5-7 minutes). Lay out the liver.

Peel the onion and chop finely.
In the oil remaining after frying the liver, fry, stirring the onion until golden brown (3-5 minutes).
Chop the greens.
Pass the liver, carrots and onions through a meat grinder, add rice and finely chopped greens, salt and pepper to taste.

The filling for pies with liver and rice is ready, you can sculpt pies. Bon appetit!
Also Like
Comments for "Filling For Pies with Liver and Rice"