Liver Pancakes with Mushroom Filling
by Editorial Staff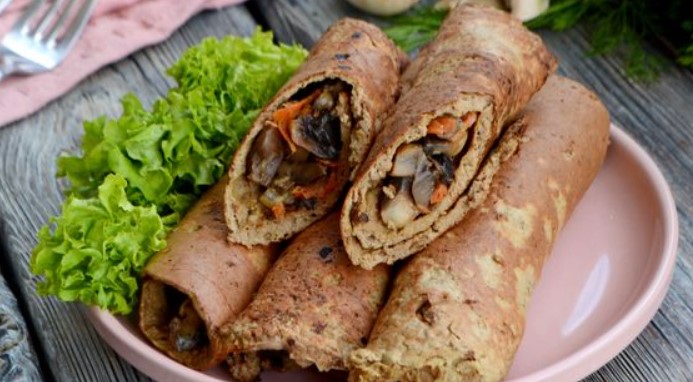 A useful and easy-to-cook recipe for liver pancakes will suit your purpose for a holiday as well as an ordinary day. The filling for these liver pancakes can be anything. Let's cook a vegetable filling with mushrooms and sour cream. You can use not only the beef liver but also pork and chicken livers for this recipe. The chicken livers make these pancakes softer.
Cook: 40 mins
Servings: 6
Ingredients
For the pancakes:
Beef (pork or chicken) liver – 600 g
Eggs – 3 pcs.
Potato starch – 2 tablespoon.
Vegetable oil – 2 tablespoon.
Salt – 1 pinch
Pepper – 1 pinch
For the filling:
Vegetable oil – 1 tablespoon.
Champignons – 200 g
Carrots – 1 pc. (150 g)
Onions – 1 pc. (100 g)
Sour cream – 2 tablespoon.
Salt – 1 pinch
Directions
Cut the mushrooms into small pieces.
Brown the mushrooms in vegetable oil until all the liquid evaporates.
Grate the carrot on a coarse grater and chop the onion.
When the mushrooms are brown, add the vegetables. Fry all together under a lid for 7-8 minutes.
Remove the pancake filling from the heat and cool.
Add the sour cream to the vegetables and mushrooms, salt lightly, and mix.

If possible, clean the liver from veins and membranes, cut it into pieces for a blender or meat grinder.

Mix the liver with a blender for 1 to 2 minutes. Put the liver mass in a deep bowl.
Add the eggs, salt, starch, and vegetable oil to the same blender bowl. Blend everything together for 20 seconds.
Mix the egg-starch mass with the liver one.
If desired, you can add a mixture of peppers or ground black pepper.
Heat a frying pan over medium heat. Pour 1 ladle of the liver mass into the dry frying pan and spread it over the entire surface. Fry the pancake for 1 to 2 minutes.

Flip over the pancake. Fry it for 1 more minute. Fry the remaining pancakes in the same way (I got 6 pieces).
Place the cooked pancake on a board, put 1-2 tablespoons of the mushroom filling on the edge, and wrap the pancake in a roll.

Stack the roll on top of each other and garnish the dish with fresh herbs.
This appetizer is very tasty both warm and cold.
Enjoy your meal!
Also Like
Comments for "Liver Pancakes with Mushroom Filling"