Filled Snack Muffins (Mini Pies)
by Editorial Staff
I want to share a recipe for very tasty and delicate snacks muffins or mini-pies. Making them is simple and fast! Convenient to take with you as a snack! Look unusual on the festive table! Any filling can be. I'm making chicken and rice muffins today!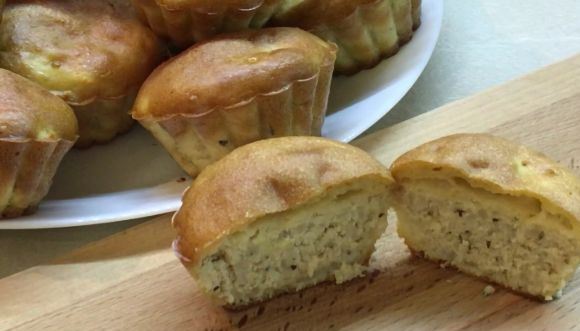 Cook: 90 mins
Servings: 9
Ingredients
Eggs – 2 pcs.
Kefir – 250 ml (1 glass)
Wheat flour – 140 g (1 glass)
Mayonnaise – 1 tbsp
Soda – 1 teaspoon
Salt – 1/2 teaspoon
*
For filling:
Boiled chicken breast – 300 g
Boiled rice – 180 g
Bulb onions – 1 pc.
Sunflower oil – for frying
Salt to taste
Dry basil – to taste
Ground black pepper – to taste
Directions
The dough is very quick to make, so let's start with the filling first. We prepare the necessary set of products. Boil chicken breasts (breast) and rice in salted water in advance.
Cut the onion into small cubes.
Twist the meat through a meat grinder.
Pour some sunflower oil into the pan. When the oil warms up, send the onion there. Fry the onion a little.
We send meat to the onion. Mix well. Cover with a lid and simmer for a couple of minutes. Add dry herbs, black pepper and rice. Mix well.

If the filling is dry, add a little water. We mix.
Salt to taste. We mix. Simmer for another 1-2 minutes – and the filling is ready.
Let's take a dough.
Pour kefir into a bowl, add eggs, mayonnaise and salt. Mix with a whisk.

Add flour and soda together, sifting immediately into a bowl.
Mix thoroughly with a whisk.
The dough is ready!
I use silicone molds. If you use metal ones, then you must first grease them with butter. Pour some dough into the mold using a spoon or ladle.
We put the filling. My filling is moist, but quite dense. I put in a little and press it to the dough.
Add a little more dough on top, evenly distributing it in the form. Leave a few millimeters from the edge of the mold blank.
We put the forms in a baking sheet.
We send muffins with chicken and rice to an oven preheated to 170 degrees for 30-40 minutes. The baking time depends on the oven itself and on the size of your forms. My molds are small enough to end up with 18 pieces. The muffins should brown slightly on top.
The chicken and rice muffins are ready! Bon Appetit!
Also Like
Comments for "Filled Snack Muffins (Mini Pies)"