Cinnamon Mini Muffins
by Editorial Staff
Recipe for making muffins with cinnamon and sugar sprinkles and milky vanilla glaze. According to this recipe, you will get 2-2.5 dozen muffins. This is a great light dessert for breakfast.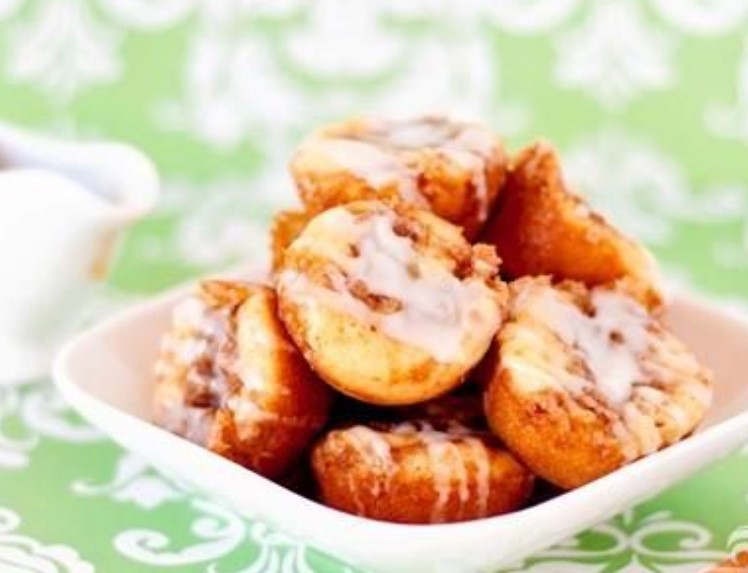 Cook: 20 mins
Servings: 4-6
Ingredients
Cinnamon – 1/2 Teaspoon (sprinkled)
Chilled butter – 3 Tbsp. spoons (sprinkling)
Sugar – 1 Tbsp. the spoon
Baking powder – 1 teaspoon
Soda – 1/2 Teaspoon
Salt – 1/4 Teaspoon
Egg – 1 Piece
Butter – 2 Tbsp. spoons
Maple syrup – 1 Tbsp the spoon
Vanilla extract – 1/2 Teaspoon
Milk – 1 1/2 Teaspoons (frosting (optional))
Vanilla extract – 1/4 Teaspoon (frosting (optional))
Directions
Make sprinkles. Cut the butter into chunks. In a medium bowl, combine flour, sugar, cinnamon and butter. Stir all ingredients together with a dough cutter or fork until the mixture resembles sand. Leave aside.
Make muffins. Preheat oven to 175 degrees. Grease the muffin dish. In a large bowl, combine flour, sugar, baking powder, baking soda and salt. Set aside. Melt the butter and cool to room temperature. In a small bowl, whisk together the buttermilk, eggs, butter, maple syrup and vanilla extract. Make a well in the flour mixture and add the egg mixture, stir.
Place the prepared dough in a pastry bag and fill the mold compartments 3/4 full.
Sprinkle muffins with sprinkles on top. Bake for 8-9 minutes. Let the muffins cool in the pan for 2 minutes, then let cool completely on a wire rack on parchment paper.

Make the icing. In a small bowl, combine all ingredients together.
Pour the icing over the warm muffins and serve immediately.
Bon appetit!
Also Like
Comments for "Cinnamon Mini Muffins"