Rassolnik
by Editorial Staff
Rassolnik is a classic soup of Russian and Soviet cuisine. Those who do not know what rassolnik is have never lived in Russia. It is a thick soap on a meat broth with pickled cucumbers and pearl barley that remains popular for everyone who understands the value of real soups.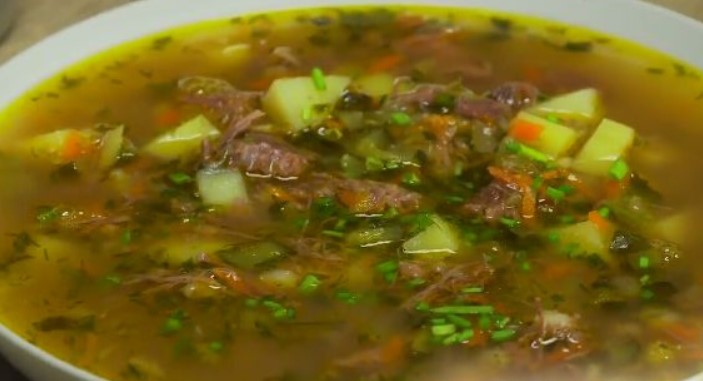 Cook: 2 hrs 20 mins
Servings: 10
Ingredients
Meat on the bone – 400 g
Boneless meat – 200 gr
Carrots – 2 pcs.
Celery – 3 stalks
Onions – 2 pcs.
Water – 2 l
Pickles – 300 g
Pearl barley – 50 g
Potatoes – 4 pcs.
Scallions – 10 g
Fresh dill – 5 g
Bay leaves – 2 pcs.
Garlic – 2 cloves
Vegetable oil – 2 tablespoon.
Salt – 2 teaspoon.
Sugar – 1 teaspoon.
Pepper – 1/2 teaspoon.
How to cook a rassolnik:
Directions
Cook the broth. Send the meat, one carrot, one onion, celery, and pour 2 liters of water into a pot.

Bring the water with vegetables to a boil and skim the scum. Reduce the heat to medium and simmer the broth for 1.5 hours with the lid closed.
Finely chop the remaining onion.
Grate the second carrot on a grater.
Cut the pickles into small cubes.

Heat a frying pan, add 1 tablespoon of vegetable oil and fry the onion for 1 minute.
Add the carrots and stew them for 5 minutes. Then take the onions and carrots out from the frying pan into a bowl.
Add 1 tablespoon. of oil and the chopped pickles to the frying pan, and stew them slowly for 15 minutes.
After 1.5 hours, take all the vegetables and meat out from the broth, separate the meat from the bones, and cut it into dice.

Rinse the pearl barley and add it to the broth. Continue to cook for another 20 minutes.
Then add the potatoes, bay leaves to the broth and cook for 5 minutes.
Add the onions, carrots, and pickles. Simmer for 10 minutes.
Add salt, sugar, finely chopped garlic, pepper, and the prepared meat. Cook the rassolnik for another 5 minutes.

Turn off the heat and add the chopped scallions and dill to the rassolnik. Allow the soup to infuse for 15-20 minutes and you can serve it.
Enjoy your meal!
Also Like
Comments for "Rassolnik"