Lenten Rassolnik with Oatmeal
by Editorial Staff
Let's cook a rassolnik with no meat but oat flakes. We are used to cooking rassolnik mostly with pearl barley or rice. But, as it turns out, oatmeal is also perfect for cooking everyone's favorite soup with pickles. Try this variant of a lenten rassolnik. I hope you will like it too!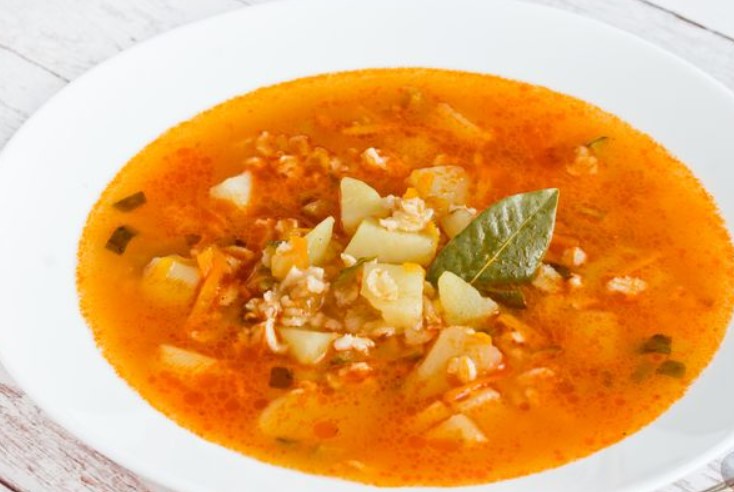 Cook: 30 mins
Servings: 4
Ingredients
Potatoes – 2 pcs. (250 g)
Oat flakes – 50 g
Pickles – 2 pcs.
Onions – 0.5 pcs.
Carrots – 0.5 pcs.
Tomato paste – 0.5 tablespoon.
Vegetable oil – 40 ml
Bay leaves – 1 pc.
Salt – to taste
Pepper – to taste
Water – 1.3 l
Directions
Cut the potatoes into small dice and send them to a pot.
Pour cold water over the potatoes and bring it to a boil over high heat. Then turn down the heat and simmer until the potatoes are soft.
Grate the carrot on a coarse grater. Chop the onion. Dice the pickles.

Heat the vegetable oil in a frying pan and fry the onions and carrots over high heat for about 3 minutes.
Add the pickles and fry everything for 2 minutes.
Add the tomato paste, some water in which the potatoes are boiling, and stew the vegetables for about 5 minutes.

Salt the prepared potatoes.
Put the oat flakes into the pot and allow the water to boil again.

Add the fried-up vegetables and bay leaf.
Simmer the rassolnik for about 5 minutes.

At the end of cooking, add some pepper and stir everything. Remove the pot with the rassolnik from the stove.
The lenten rassolnik with oatmeal is ready to be served.
Enjoy your meal!
Also Like
Comments for "Lenten Rassolnik with Oatmeal"