Lenten Chebureki with Pumpkin
by Editorial Staff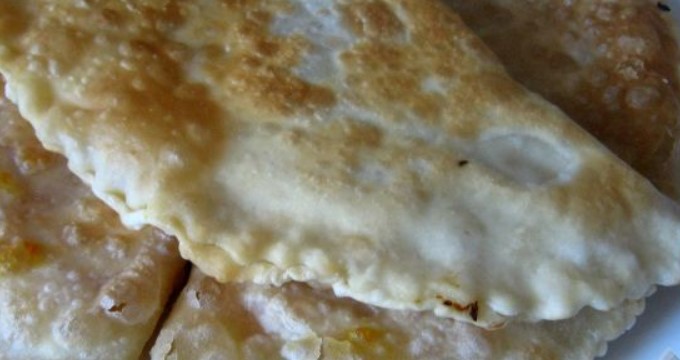 This recipe for lenten chebureki is always used in our family. It's cheap, tasty, and nourishing. Chebureki with pumpkin can be cooked during Lent, on those days when holy anointing oil (vegetable oil) is allowed.
Cook: 1 hr
Servings: 6
Ingredients
For the dough:
Flour – 3 cups
Water – 1 cup
Salt – 1 pinch
Vegetable oil – 3 tablespoon.
For the filling:
Pumpkin – 600 g
Onions – 2-3 pcs.
Vegetable oil – 30 g
Salt – to taste
For frying:
How to cook chebureki with pumpkin:
Directions
Sift the flour. Add salt.
Add the vegetable oil.
Add the water gradually and knead the dough as for dumplings. Cover the dough with a towel and leave it for 20-30 minutes.

Dice the onions.
Cut the pumpkin into pieces and peel it.
Grate the pumpkin on a coarse grater.
Heat a frying pan, pour in the vegetable oil. Place the onions into the hot oil. Stew them over medium heat for 2-3 minutes, then add the pumpkin. Stew all together, stirring occasionally, for 5-7 minutes. Add salt. Mix everything well. Remove the pan from the heat and cool the vegetables down.
Divide the dough into egg-sized pieces. Roll out the dough into a round sheet while adding some flour.
Place the filling on the edge of the sheet.

Stick the edges of the chebureki together thoroughly. Make all the chebureki in this way.

Heat a frying pan, pour in the vegetable oil. Place the chebureki into the hot oil. Brown the chebureki with pumpkin over medium heat (for about 2 minutes).
Then flip it over and brown the other side of the chebureki the same way. Fry all the chebureki this way and add oil if needed.
The lenten chebureki with pumpkin is done.
Enjoy your meal!
Also Like
Comments for "Lenten Chebureki with Pumpkin"