Ruguvachki (Bulgarian Chebureki)
by Editorial Staff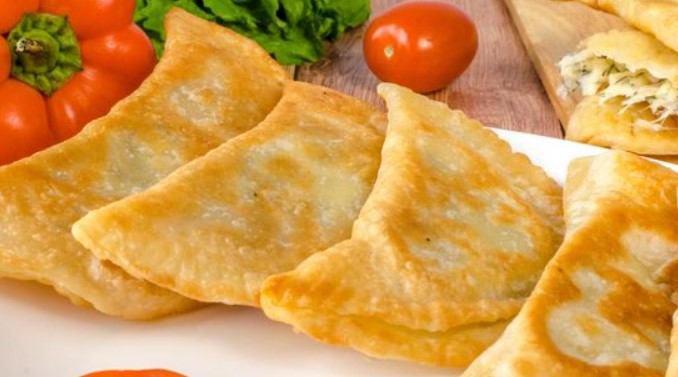 If you think that you don't know how to work with dough, you just haven't come across such an easy and comfortable recipe. The dough for such yummy chebureki is perfect and a pleasure to work with! Chebureki with bryndza and fresh herbs are crispy, juicy, and incredibly flavorful.
Cook: 1 hr 20 mins
Ingredients
For the dough:
Butter – 100 g
Water (boiling water) – 175 ml
Wheat flour – 370 g (about 2.5 cups of 250 ml)
Salt – 1 pinch
For the filling:
Bryndza – 300-400 g
Scallions – 20 g
Fresh dill – 20 g
Salt – to taste
For frying the chebureki:
Directions
Sift the flour into a bowl. Add a pinch of salt and mix.
Dice the butter into another bowl.
Cover the butter with boiling water.
Put the flour in portions mixing it with a wooden spatula.
As soon as the dough is no longer hot, start kneading it with your hands for 3-5 minutes. The dough should be very soft and elastic.
Cover the dough with a bowl and leave it for 20-30 minutes.
Grate the bryndza on a coarse grater.
Chop the scallions and dill.
Combine the bryndza and fresh herbs. If necessary, add salt. Mix all together.

Divide the dough into four parts. Rolled out one part into a 2 mm thick layer. Leave the rest of the dough under the bowl.
Cut out circles from the rolled out dough using a saucer. Place dough scraps under a bowl to keep them from drying out.
Put a tablespoon of the prepared filling on each circle.

Shape the chebureki with bryndza and carefully stick the edges of the dough together. Use a fork to make the edges of the chebureki jagged. Make the chebureki with bryndza from the remaining dough and filling in the same way.

Heat the vegetable oil well in a frying pan. Fry the chebureki for 3-4 minutes on each side.

Place the cooked chebureki on paper towels to absorb the excess fat. I got 15 chebureki from the specified number of ingredients.
The ruguvachki (Bulgarian chebureki) is done.
Enjoy your meal!
Also Like
Comments for "Ruguvachki (Bulgarian Chebureki)"