Bulgarian Ruguvachki
by Editorial Staff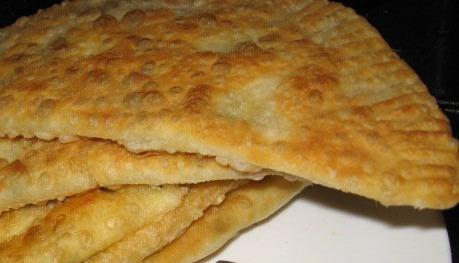 The best dough for pasties. As far as I know, traditional rugs are made in a slightly different way. But in our family, for 4 generations, they have been making ruffians this way. These are a kind of pasties made of very light, thin, porous dough stuffed with cottage cheese and herbs. By the way, the dough here is simply splendid – ideal for pasties. I advise everyone to try it.
Ingredients
Butter – 100 g
Water (steep boiling water) – 1 stack.
Wheat flour / Flour (400-600 g + for dusting. Amount may vary depending on flour) – 400 g
Vegetable oil (for frying)
Cottage cheese – 600-700 g
Green onion – 1 bunch.
Parsley – 1 pack
Dill – 1 bunch.
Salt
Directions
Cut the butter into pieces, let it warm up a little after the refrigerator.
Pour in boiling water.
Stir with a spoon and gradually add flour.
We knead a soft, elastic dough, it is very pleasant to the touch, but at the same time flexible and elastic.
Form 10-12 balls from the dough. We lay them out on a floured surface.
Cooking the filling. Grind the greens.
We mix cottage cheese, herbs, mix and add well. There should be enough salt.
Lightly roll out the cake to about 1 cm thick, then roll out the second.
Sprinkle one tortilla generously with flour, cover with a second tortilla.
And roll out two cakes at once up to 3-4 mm.
Cover half of the cake with a thick layer of filling.
Blind lightly with your hands, then secure with a fork. We form all the ruffles at once, folding them onto a floured surface.
Pour oil into the pan, heat. Reduce the heat slightly and fry the ruguvachki over medium heat until golden brown.
Enjoy your meal!
Also Like
Comments for "Bulgarian Ruguvachki"