Bulgarian Cheese Pie
by Editorial Staff
Delicious, juicy, aromatic Bulgarian pie with cheese filling.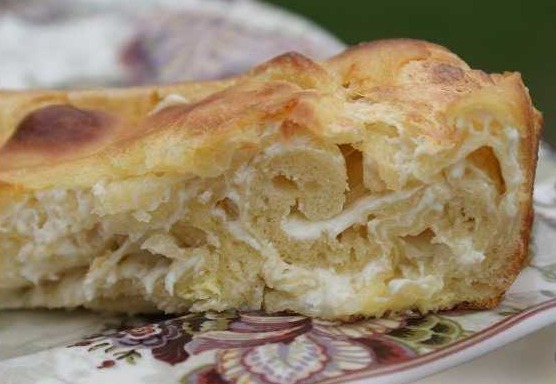 Ingredients
For the dough:
Flour – 600 g
Eggs – 3 pcs.
Water – 250 g
Sugar – 1 teaspoon
Salt – 1 teaspoon
Fresh yeast – 10 g
Vanilla sugar (added from myself) – a pinch
For filling:
Cheese (in Bulgaria they take feta cheese) – 500 g
Melted butter – 100 g
To fill:
Eggs – 3 pcs.
Milk (I have Half & half – full fat milk and cream) – 200 ml
Sugar – 2 tablespoons
Directions
Activate fresh yeast in a little warm water.
Mix flour with sugar and salt, add water and activated yeast. Lightly beaten eggs. Knead a smooth and firm dough from the indicated ingredients (I kneaded for more than 5-6 minutes).
Place the dough in a greased bowl. Fermentation – 40 minutes in a warm place (my dough stood for about 1 hour and 20 minutes, before increasing by 3 times). Divide the finished dough into 5 parts. Roll each piece into a circle 25 cm in diameter. Grease each rolled dough disk with melted butter.
Divide the filling into 5 equal parts and distribute evenly over the prepared circles. Roll each filled dough disk into a roll, then twist a little.
Prepare a form with sides 30 cm in diameter. Grease it with oil. Form a cake, spin the dough in turns in a spiral (the spiral is not tight, the cake will double in the baking process).

Proofing – 15-20 minutes in a warm place (mine – 30 minutes).
Prepare the pie filling. Beat eggs lightly with sugar, add milk.
Pour the milk mixture over the cake and place in the oven.

The oven temperature is 180 degrees. Bake for 40-45 minutes.
Cover the finished cake with a linen towel for 10-15 minutes.
Bon Appetit!
Also Like
Comments for "Bulgarian Cheese Pie"