Lecho in Bulgarian
by Editorial Staff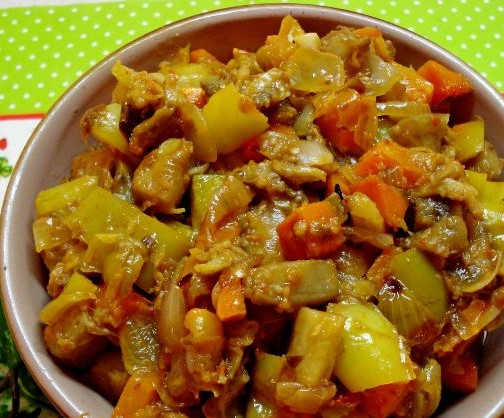 In this vegetable dish, large pieces of eggplant, multi-coloured bell pepper, orange-sun carrots and onions fried to transparency look so beautiful and appetizing.
Cook: 40 mins
Servings: 4
Ingredients
Eggplant – 3 pcs.
Bulgarian pepper (better than different colours) – 3 pcs.
Carrots – 2 pcs.
Onions, medium-sized – 6 heads
Garlic – 3 cloves
Tomato juice – 100 ml
Salt
Pepper
Vegetable oil for frying
Directions
Remove the stem from the eggplant and remove the purple skin. Cut the eggplants into large pieces.
To get rid of excess moisture in eggplants (and not from bitterness – modern breeding cultivates eggplants that do not contain bitterness almost everywhere), they need to be salted, left for 20 minutes, and then dried with a paper towel.
Coarsely chop the bell pepper.


Chop the carrots and onions in the same way.

Fry carrots and onions in vegetable oil.
Fry the dried eggplants and bell peppers separately.
When the vegetables are lightly browned, add tomato juice to the pan.

Combine all the sautéed vegetables in one bowl. Add garlic passed through a press to still warm vegetables.
Mix everything carefully, trying not to deform the pieces of vegetables.
Bulgarian lecho is ready.
Also Like
Comments for "Lecho in Bulgarian"