Appetizer "Lecho"
by Editorial Staff
Sweet pepper and tomato lecho appetizer with boiled sausage.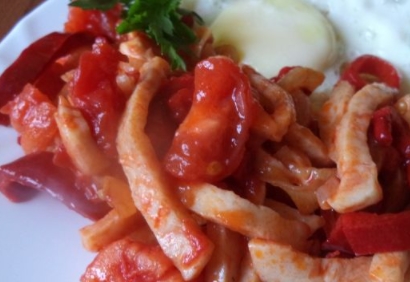 Cook: 25 mins
Servings: 4
Ingredients
Onions – 100 g
Sweet pepper – 200 g
Tomatoes – 200 g
Boiled sausage – 500 g
Vegetable oil – 50 g
Salt – 0.5 teaspoon (to taste)
Directions
Wash the tomatoes (it is advisable to put them in boiling water first) and peel them.

Cut the tomatoes into slices.

Peel the onion, wash and cut into half rings.
Wash the bell peppers, peel them and cut them into half rings.
Cut the sausage into strips.
Heat a frying pan, pour in vegetable oil, put onions in hot oil. Lightly fry the onion in vegetable oil (or other fat) over medium heat, stirring occasionally, for 2-3 minutes.
Add pepper.
Add the sausage.
Mix everything and simmer for 5-10 minutes over medium heat, you can cover it.
Add chopped tomatoes, season with salt, stir and simmer for another 5 minutes, covered.
The Lecho appetizer is ready.

Serve the "Lecho" appetizer to the table with any side dish to taste.
Bon Appetit!
Also Like
Comments for "Appetizer "Lecho""