Mushrooms Appetizer
by Editorial Staff
Bright, appetizing and incredibly delicate in taste "Mushrooms" appetizer made of eggs, cheese, ham and cherry tomatoes is a spectacular and unpretentious dish in preparation, which diversifies the festive menu and will decorate any feast.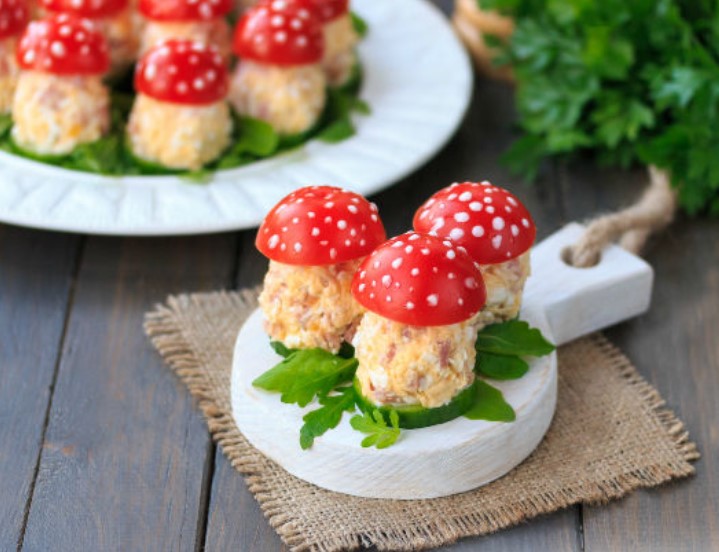 Cook 30 mins
Servings: 20
Ingredients
Chicken egg – 3 pcs.
Hard cheese – 100 g
Ham – 150 g
Cherry tomatoes – 10-15 pcs.
Cucumber – 1-2 pcs.
Fresh greens – 30 g (for serving)
Homemade (or store) mayonnaise – 2-3 tbsp
Salt to taste
Ground black pepper – to taste
For homemade garlic mayonnaise:
Yolk – 1 pc.
Garlic – 1 clove
Mustard – 1 teaspoon
Lemon (juice) – 0.25 pcs. (taste)
Vegetable oil – 150-200 ml
Salt to taste
Ground black pepper – to taste
Directions
Prepare the ingredients for the Mushroom Snack.

Make a garlic mayonnaise. Separate the egg yolk from the white and place the yolk in a deep container. Adding dropwise, gradually pour in the vegetable oil, whisking the mixture continuously until it thickens. (You can use a blender to speed up the cooking process.)
When the mixture thickens enough to leave whisk marks on its surface, add mustard, chopped garlic clove, lemon juice, salt and ground black pepper to taste. (The above seasonings can also be added to ready-made (store) mayonnaise by skipping the previous cooking step.)
Pour chicken eggs with cold water, bring to a boil and cook over low heat for 8 minutes from the moment the water boils. Then drain the hot water, rinse the eggs with cold water, chill completely and peel.
Grate cheese and eggs on a fine grater. Chop the ham into small pieces.
Connect the prepared components. Add a little salt and ground black pepper to taste and, adding in small portions, stir in 2-3 tbsp mayonnaise. You should have a thick mass that easily retains its shape.
For a mushroom-shaped snack, divide the mixture into 20-30 small portions and shape into small balls with wet hands. (It is better to start forming "mushrooms" immediately before serving or not earlier than 30-40 minutes – so vegetables and herbs will retain their freshness.)

Wash, dry and cut the cherry tomatoes in half.
Cut the cucumber into slices about 0.5 centimeters thick.
Place some herbs on a serving plate.
Add cucumber slices.
Lightly wrap the prepared balls of cheese, eggs and ham, give them a slightly more tapered shape, reminiscent of mushroom legs. Place the resulting "mushroom legs" on the cucumber slices.
Add mushroom caps by placing half a cherry tomato on each serving of the mixture.

Using a thin brush or other handy object, apply a few drops of mayonnaise to the cherry halves.
The "Mushrooms" appetizer of eggs, cheese, ham and cherry tomatoes is ready. Serve the dish to the table.
Bon appetit!
Also Like
Comments for "Mushrooms Appetizer"