Fish Appetizer
by Editorial Staff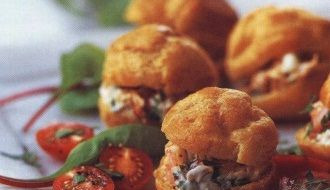 Custard balls are stuffed with fish and served as a cold snack.
Servings: 6
Ingredients
Canned salmon (drained) – 200 g
Mayonnaise – 60 g
Sun-dried tomatoes in oil (chopped) – 50 g
0.5 lemon juice
Zest of 0.5 lemon
Fresh parsley (chopped) – 30 g
Salt to taste
Ground black pepper – to taste
Salad leaves for serving

For eclairs:

Flour – 65 g
Butter – 50 g
Water – 150 g
Eggs (slightly beaten) – 2 pcs.
Directions
In a large saucepan, bring butter and water to a boil. Remove from stove. Immediately add all the flour to boiling water and mix with a wooden spoon with quick movements until a homogeneous elastic mass. Allow cooling at room temperature for 5 minutes.
Meanwhile, prepare the filling. Cut the salmon into small pieces and place in a bowl. Add mayonnaise, tomatoes, lemon zest, juice, parsley, salt, and pepper. Mix well, cover, and refrigerate.
Introduce eggs into the slightly cooled dough, stirring well after each portion. Set aside.
Turn on the oven to preheat to 190 degrees. Grease a large baking sheet or cover with parchment.
Place the custard dough in a pastry bag and place about 24 balls of dough on a baking sheet at a distance of 3 cm from each other. Place the baking sheet in a preheated oven for 20-25 minutes.
Remove the eclairs from the oven, cut each ball in half lengthwise. Leave to cool at room temperature. Fill each ball of eclair with fish filling and serve the appetizer immediately, with salad leaves.
Enjoy your meal!
Also Like
Comments for "Fish Appetizer"