Herring Appetizer
by Editorial Staff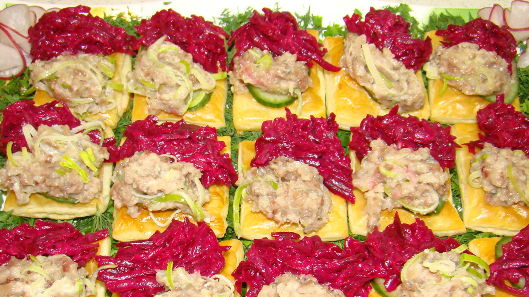 An appetizer of fish and vegetables in the form of sandwiches on puffs will perfectly decorate your festive table. Delicious dish, easy and quick preparation. And the festive snack looks amazing!
Cook: 50 minutes
Servings: 10
Ingredients
Lightly salted herring – 1 pc.
Frozen puff pastry (defrost) – 500 g
Leeks – 35 g
Mayonnaise – 2 tbsp
Medium beets – 2 pcs.
Egg – 1 pc.
Fresh cucumber – 1 pc.
Dill greens – 1 bunch
Parsley greens – 1 bunch
Radish (for decoration) – 3 pcs.
Vegetable oil (for lubricating the table) – 1 tbsp
Salt to taste
How to make a herring snack:
Directions
Preheat oven to 180 degrees. Grease the table with vegetable oil, put the defrosted dough on it, and cut into equal parts (33 squares). Place them on a baking sheet covered with parchment. Grease the puffs with a beaten egg and bake at 180 degrees until golden brown (the time depends on the characteristics of the oven, you can check the readiness after 10-15 minutes).
Peel the herring, disassemble into fillets, grind in a meat grinder. Chop the leek. Combine herring, onion, 1 tbsp mayonnaise, mix.
Boil the beets (30-40 minutes), cool (under cold water), peel. Grate the beets on a coarse grater, add salt to your taste, 1 tbsp mayonnaise, mix.
Chop the herbs, sprinkle the dish with them. Cut the cucumber into slices.
Put the finished puffs on the greens. Put a circle of cucumber on each puff. Then put the beets on one half of the cucumber puff and the herring on the second.

Decorate the herring appetizer with radish roses. A ready-made herring appetizer can be served at the table.
Bon Appetit!
Also Like
Comments for "Herring Appetizer"