Chicken Fillet Appetizer
by Editorial Staff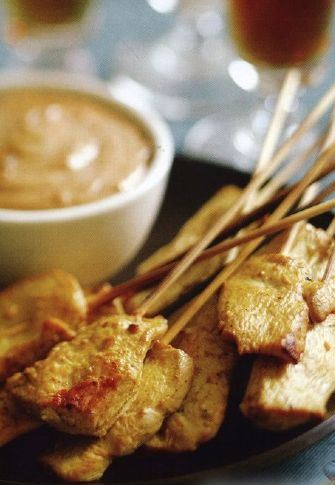 This appetizer is a portioned chicken fillet kebabs marinated in soy sauce. This appetizer is convenient to serve on a buffet.
Ingredients
Skinless chicken fillet – 4 halves
Soy sauce – 2 tbsp
Fresh lemon juice – 2 tbsp
Olive oil – 1 tbsp
Garlic (chopped) – 2 cloves
Curry powder – 1/2 teaspoon
Salt to taste
Ground black pepper to taste
Peanut butter – 1/3 cup
Coconut milk – 1/3 cup
Light brown sugar – 1 teaspoon
A pinch of ground red pepper
About 32 wooden skewers soaked in water
Directions
Using a sharp knife, cut the fillet lengthwise into 1.5 cm pieces (each fillet will make about 6 pieces). Cut each piece in half diagonally for a total of 24 pieces.
In a medium bowl, combine 1 tablespoon of soy sauce, 1 tablespoon of lemon juice, oil, garlic, curry powder, 1/2 teaspoon of salt, and a pinch of black pepper. Put the chopped fillets in this bowl, mix and leave at room temperature for at least 15 minutes, or better refrigerate for a day.
In a saucepan, combine remaining soy sauce, lemon juice, peanut butter, coconut milk, sugar, a pinch of red pepper, and 1/8 teaspoon of salt.
Switch on the oven with the "top grill" function to preheat to the maximum temperature and place the wire shelf in the highest position. String the fillet pieces onto the soaked wooden skewers and place the chicken fillet appetizer on the wire rack. Cook kebabs, turning, until golden brown, about 7 minutes. Meanwhile, put the stewpan over low heat and heat until thickened (if the sauce seems very thick, you can add 1 spoonful of water).
Serve the chicken fillet appetizer with peanut sauce.
Also Like
Comments for "Chicken Fillet Appetizer"