Lavash Appetizer with Chicken and Cream Cheese
by Editorial Staff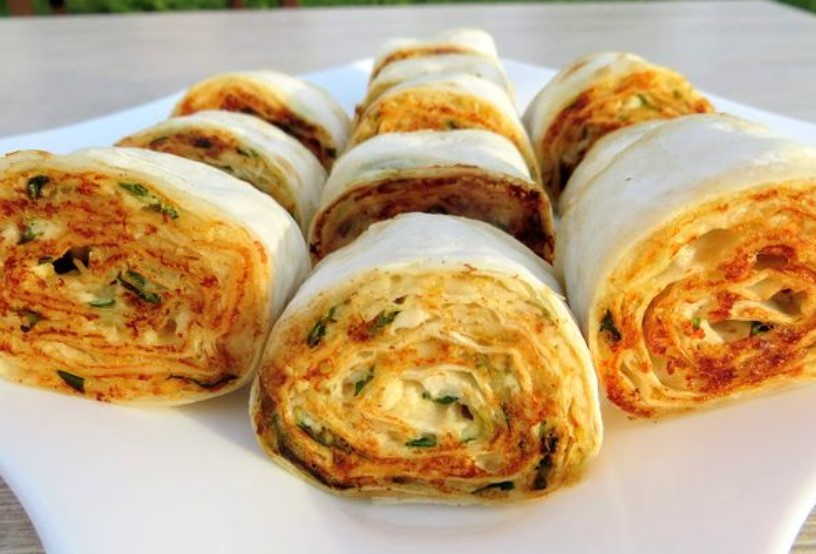 Pita bread with chicken and cream cheese is prepared very quickly, the products are the simplest! And how delicious it is! Here is a recipe for pita bread with a filling, we spied on and begged from our neighbors. Lavash appetizer that you will like from the first bite!
Ingredients
Chicken breast (fillet) – 200 g
Processed cream cheese – 200 g
Thin lavash (size 30×30 cm) – 2 pcs.
Mayonnaise – 2 tbsp
Parsley greens – 1 bunch
Vegetable oil – for frying
Salt to taste
Directions
From products everything, except for processed cream cheese, is always at our place. Cook the meat in salted water in advance until tender, within 30 minutes after boiling.

We disassemble the chicken meat into fibers and cut into smaller pieces.
Add cheese, mayonnaise and herbs to the chicken. Mix well.
Spread half of the meat filling with cheese and herbs on a sheet of pita bread and distribute evenly, leaving 3 cm free on one edge.
Grease the edge of the pita bread with mayonnaise.
We wrap the pita bread with the filling in a tight roll. We do the same with the remaining pita bread and filling. Wrap pita rolls with chicken and cheese in a bag and let them lie down for 30 minutes so that the pita bread is soaked.
Cut lavash rolls into 2 cm pieces and fry in a little oil on both sides.

This appetizer is good both hot and cold! Until the main course is served or the meat is grilled on coals, such a quick recipe is just a godsend!
Bon appetit!
Also Like
Comments for "Lavash Appetizer with Chicken and Cream Cheese"