Lavash Roll with Mushrooms and Cheese
by Editorial Staff
Today I want to present to your attention a lavash roll with mushrooms and cheese. Cooking it is completely simple and short-lived.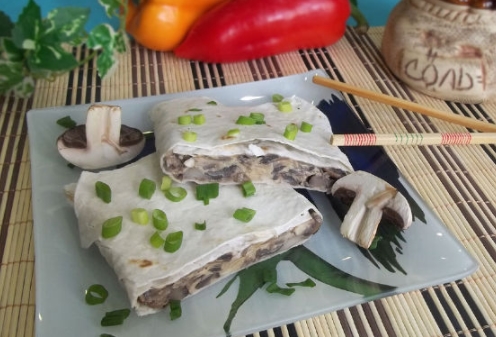 Cook: 45 mins
Ingredients
Thin lavash – 5 pcs. (round; if oval, then 2 pcs.)
Champignons or other mushrooms – 1 kg
Bulb onions – 1 pc.
Hard cheese – 200 grams
Salt to taste
Ground black pepper – to taste
Refined vegetable oil – for frying
Directions
Peel the onions, wash and cut, not into half rings, but into cubes. We need both mushrooms and onions to be the same shape. Then send the onions to fry with the mushrooms.

While the mushrooms and onions are fried, also cut the hard cheese into cubes. Here the shape of the cheese slicing is not important, since it will melt anyway. Therefore, you can even grate it.

When the mushrooms are almost ready, season them with all the spices and add cheese to them. Stir everything and cook for about 5 more minutes. Determine the degree of doneness by the cheese – if it is melted, then the mushrooms can be removed from the heat.

Spread the lavash and put a portion of the mushroom filling on it.
Wrap the pita bread in a roll or envelope, as you like, and leave it to soak for 1 hour. For better soaking, wrap it with cling film, which you need to remove before serving. Cut the roll into portions and place on a plate.
Enjoy your meal!
Also Like
Comments for "Lavash Roll with Mushrooms and Cheese"