Lavash Roll with Rice, Eggs and Cheese
by Editorial Staff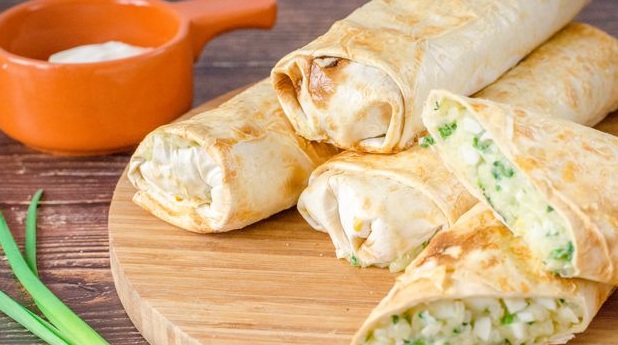 Lavash stuffed with rice, boiled eggs, cheese, and green onions is an easy-to-prepare, tasty, and satisfying dish. You can take such a pita roll for a picnic or simply diversify your daily menu.
Cook: 60 min.
Servings: 4
Ingredients
Thin lavash – 2 sheets
Eggs – 6 pcs.
Green onions – 150 g
Rice – 150 g
Suluguni cheese – 100 g
Salt to taste
Ground black pepper – to taste
We also need parchment paper.
Directions
We wash the rice thoroughly, fill it with water (2 glasses), and boil until tender, 15 minutes after boiling. Put boiled rice in a colander.
Boil 4 hard-boiled eggs, 10 minutes after boiling.
Finely chop the green onion.
Three cheese on a coarse grater.
Peel the boiled eggs and chop finely.
In a convenient bowl, combine rice, eggs, cheese, and onion. Salt and pepper. We mix.
Break the two remaining eggs and send them to a bowl. Beat eggs with a whisk.
We turn on the oven and heat it up to 180 degrees. We cut each sheet of pita bread in half.
Grease the lavash blank with an egg.
Stepping back a couple of centimeters from the edge of the pita bread, layout the filling of rice, eggs, cheese, and herbs.

Bending the edge of the pita bread inward, fold it tightly into a roll.
We do this with all the pita bread and filling.
Cover the baking sheet with parchment paper and transfer pita rolls with rice, eggs, and cheese onto it. Grease each roll on top with beaten eggs. We send the pita bread with the filling into the oven and bake until browning (20-30 minutes).

Serve lavash rolls with your favorite sauce. Bon Appetit!
Also Like
Comments for "Lavash Roll with Rice, Eggs and Cheese"