Lavash Rolls with Herbs
by Editorial Staff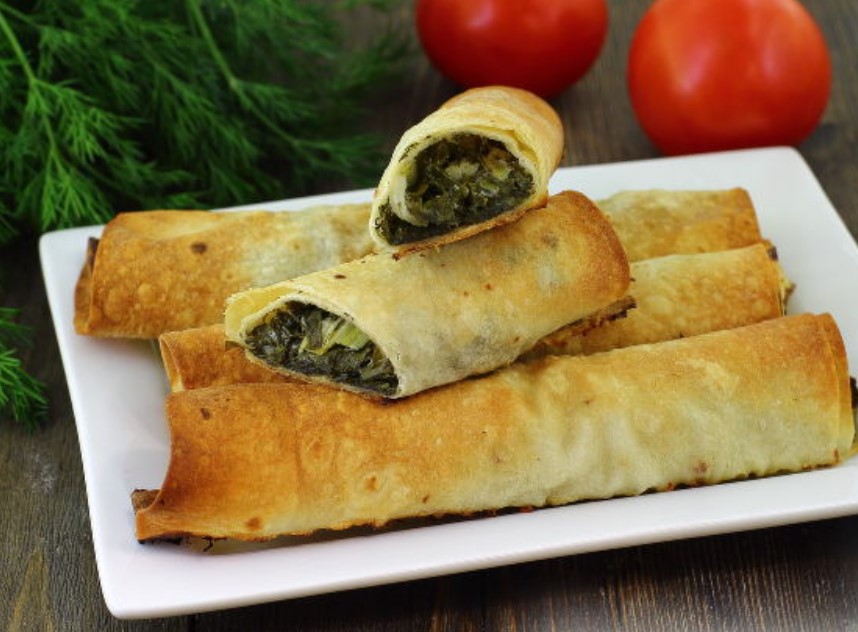 According to this recipe, you can make lavash rolls with herbs and treat your loved ones with an appetizing snack that will help out any minute you need to have a quick snack.
Cook: 30 mins
Serving: 2
Ingredients
Lavash – 1 pc.
Sour cream 20% – 80 g
Dill greens – 35 g
Parsley – 35 g
Green onions – 30 g
Salt to taste
Ground black pepper – to taste
Vegetable oil – for lubrication
Directions
For cooking, you will need thin pita bread, herbs, sour cream, salt, ground black pepper, vegetable oil

Take dill, parsley, green onions from the herbs . Rinse, pat dry with paper towel. Chop finely and place in a deep bowl.
Add sour cream. Stir. Season with salt and ground black pepper.
Cut a sheet of pita bread into two pieces if you want to bake larger rolls. I cut it into four halves to make small portioned rolls. Place the spicy filling on each layer and wrap it in a roll.

Place the pita bread with herbs on a baking sheet with parchment. Brush each pita roll with vegetable oil. Bake pita rolls stuffed with greens for 8-10 minutes in a preheated oven or under the grill until golden brown. (Optionally, they can be fried in a pan with vegetable oil.)
Lavash rolls with herbs are ready.
Bon Appetit!
Also Like
Comments for "Lavash Rolls with Herbs"