Lavash Roll with Korean Snacks
by Editorial Staff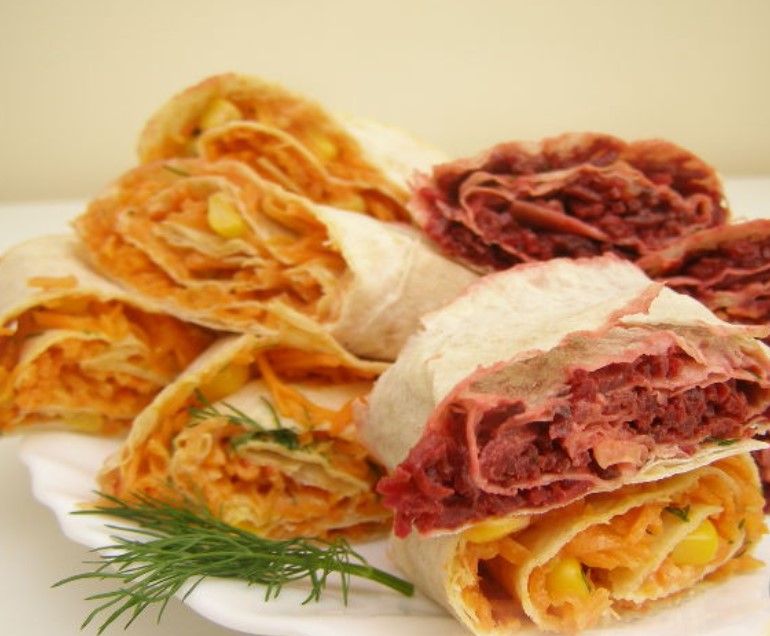 A very simple and mega-fun Korean carrot and beetroot snack!
Cook: 15 mins
Servings: 5
Ingredients
Thin lavash – 1 sheet
Korean carrots – 100-150 g
Korean beets – 100-150 g
Canned corn (optional) – 2-3 tbsp
Lean mayonnaise (or regular) – 1-2 tbsp
Ketchup – 1-2 tbsp
Greens (dill) – to taste
Directions
So, for a lavash roll, we need the following set of products: sheet pita bread, ketchup, mayonnaise, Korean carrots and Korean beets, corn and dill.
Let's spread a sheet of pita bread. Apply mayonnaise evenly.
Apply the ketchup evenly (about the same amount).
Let's break all the beauty 🙁 Carefully spread the mixture of sauces in an even layer over the entire surface of the lavash.
Distribute Korean snacks – carrots and beets evenly over the surface. You can separate them, or you can make a mixture. Pour canned corn on top (you can only on the near side, with which we will start wrapping). Tear the greens with our hands and carefully scatter them over the entire surface

Roll the lavash roll along the long side. Let's check that the edge is on the bottom. Press the lavash roll a little.
Cut the edge and cut the lavash roll obliquely into pieces of arbitrary thickness (I got pieces 4-5 cm thick). Decorate with dill herbs.
Bon Appetit!
Also Like
Comments for "Lavash Roll with Korean Snacks"