Gimbap (Korean Rolls)
by Editorial Staff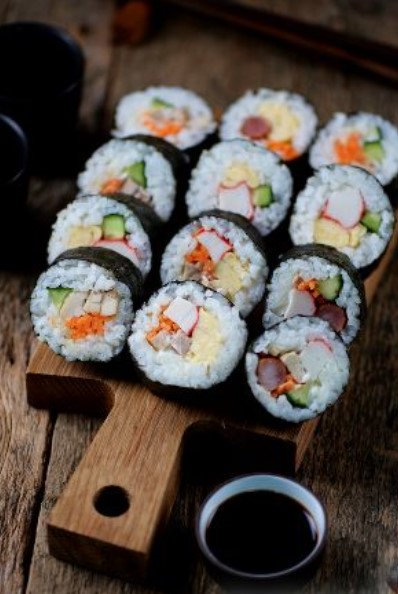 Gimbap is a Korean dish borrowed from Japanese cuisine. These are the same sushi rolls, only it contains more satisfying products: baked chicken, sausage, omelet, crab sticks, and a large number of vegetables. Unlike traditional sushi dressing, gimbap is seasoned with sesame oil.
Cook: 1 hour 30 mins
Ingredients
Round grain rice – 400 g
Nori sheets – 5 pcs.
Crab sticks – 150 g
Baked chicken – 100 g
Smoked sausages – 3-4 pcs.
Cucumber (large) – 2 pcs.
Carrots (large) – 1 pc.
Bulgarian pepper – 40 g
Chicken eggs – 2 pcs.
Sesame oil – 1.5-2 tbsp
Vegetable oil – 0.5 teaspoon
Wine vinegar – 1 teaspoon
Salt – a pinch
Sugar – a pinch
For filing:
Soy sauce – 3 tbsp
Sweet soy sauce – 0.5 tbsp
Hot chili sauce – 0.5 teaspoon
Sesame oil – 0.5 teaspoon
Directions
Prepare the necessary foods for Korean gimbap rolls.
Rinse the rice several times, boil until tender. Season with sesame oil and let the rice cool.
Beat eggs with a whisk, add a little water, sugar and a pinch of salt.
Prepare an omelet, roll it up, cool, cut lengthwise into thin slices.
Cut the pre-baked and chilled chicken into thin slices.
Prepare smoked sausages. Peel the crab sticks from the packaging
Cut the cucumber and bell pepper into thin strips (remove the core with seeds). Grate the carrots for the Korean carrots.
Transfer the carrots to a deep bowl, sprinkle with white wine vinegar, add a little sugar, salt, leave to marinate for a couple of minutes.
Put the cooled seasoned rice on a nori sheet.
The first gimbap is made from crab sticks, omelet and cucumber.

Use the mat to roll up the roll.
The second gimbap is prepared with baked chicken, pickled carrots, scrambled eggs and cucumber.

Prepare the third gimbap with smoked sausage, pickled carrots, scrambled eggs and bell pepper.

For the sauce, combine soy sauce, sweet soy sauce, chili sauce, and sesame oil.
Cut the finished gimbap into portions with a sharp knife and serve with the prepared sauce.
Good appetite!
Also Like
Comments for "Gimbap (Korean Rolls)"