Korean Tomatoes
by Editorial Staff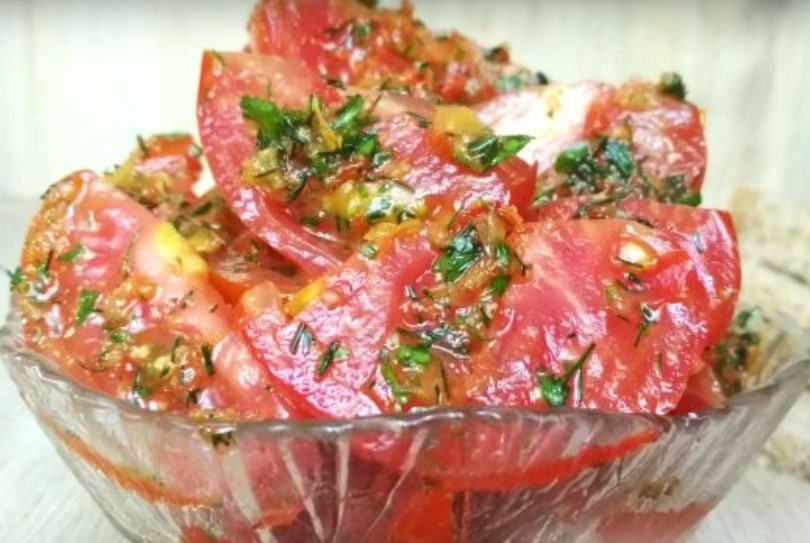 Tomatoes according to this recipe are just great! The proportions of spices are perfectly matched to create a wonderful taste and aroma of the dish!
Cook: 12 hours
Ingredients
Tomatoes – 1 kg
Sweet pepper – 2 pcs.
Fresh parsley – 1/2 bunch
Fresh dill – 1/2 bunch
Garlic – 3-4 cloves
Vinegar – 1 tbsp
Vegetable oil – 3 tbsp
Sugar – 1 teaspoon
Salt – 1 teaspoon
Dried hot paprika – 1 pinch (or to taste)
Ground coriander – 1 teaspoon
Directions
Chop dill and parsley as small as possible – the dish will be more aromatic and tasty
Grind sweet peppers with a blender.

Add vinegar, vegetable oil, garlic passed through a press and spices to the pepper: hot paprika, coriander, sugar and salt.
Add chopped dill and parsley, mix everything. (Optionally, add fresh cilantro or basil and fresh hot peppers instead of dried hot paprika.)
My tomatoes, cut out the place of the stalk and cut the tomatoes into four to six pieces, depending on the size of the fruit. It is better to take tomatoes not too juicy, with fleshy pulp.
In a jar (I have a one and a half liter jar) we put a layer of tomatoes, pour over the prepared dressing sauce. Then another layer of tomatoes and dressing again. Thus, we put all the tomatoes with dressing in a jar.
We close the jar with a plastic lid. Twirl the jar a little in our hands so that the dressing is evenly distributed over all the tomatoes.
Turn the jar upside down. We put in the refrigerator for 12 hours.

When you open the jar, the top tomatoes will be slightly more pickled, and the lower ones will be brown.
Only from the aroma of such tomatoes the appetite comes instantly. Tomato juice with a marinade of pepper, garlic, herbs and spices can be simply sauteed with bread – it's so delicious! Be sure to try this recipe for pickled tomatoes and it will become your favorite.
Bon Appetit!
Also Like
Comments for "Korean Tomatoes"