Korean Pumpkin
by Editorial Staff
Fans of spicy food will appreciate the unusual appetizer – Korean style pumpkin with onions, garlic and herbs. Preparing such a juicy and spicy vegetable salad is not difficult at all, and it is based on quite affordable products.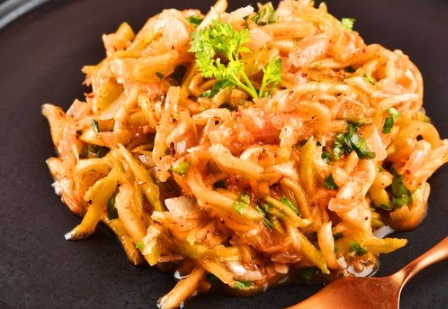 Cook: 25 mins
Servings: 3
Ingredients
Pumpkin (peeled) – 300 g
Bulb onions – 100 g (1 pcs.)
Garlic – 1-2 cloves
Fresh parsley – 10 g (7-8 sprigs)
Lemon juice – 2 tbsp
Ground coriander – 1/2 teaspoon
Dried basil – 1/2 teaspoon
Ground red pepper – to taste
Salt to taste
Ground black pepper – to taste
Vegetable oil – 2-3 tbsp
Directions
Rinse and dry the parsley.

Grate the pumpkin for the Korean carrots.

Place the pumpkin in a bowl, salt, and add lemon juice. Wrinkle slightly with your hands and leave for about 15 minutes.
Peel the onion and cut it into small cubes.
Heat vegetable oil in a frying pan. Put onion and, stirring constantly, fry over medium heat, about 3-5 minutes, until light golden brown.
Add dried basil, red pepper, coriander, and black pepper to a bowl of pumpkin.
Peel the garlic, chop finely with a knife and also send to a bowl. Mix.
Transfer the fried onions directly with the hot vegetable oil into a bowl and stir again.
Finely chop the parsley with a knife, also send to a bowl and mix again.

Korean pumpkin is ready.
Bon Appetit!
Also Like
Comments for "Korean Pumpkin"