Korean Asparagus
by Editorial Staff
Many people love Korean asparagus. But usually, the price for this salad on the market bites decently. Let's cook it ourselves! And as much as we want.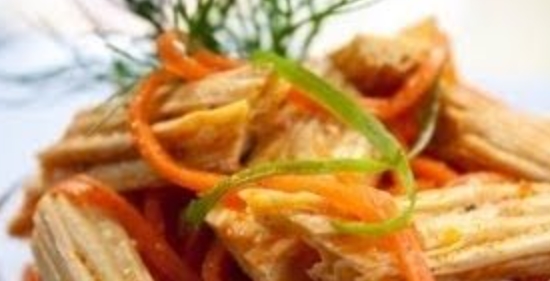 Servings: 4
Cook: 3 hours
Ingredients
Asparagus (bag) – 1 Piece (This recipe uses dry soy asparagus.)
Carrots – 1 Piece
Onion – 1 Piece
Garlic – 3 Cloves
Vegetable oil – 70 Grams
Table vinegar – 1 Teaspoon
Ground black pepper – 5 grams
Salt – To taste
Directions
Put dry asparagus in a bowl, cover with cold water and leave for a couple of hours.

After that, the asparagus must be removed from the water and allowed to drain. Then we cut it in portions.

Peel the onion, cut into half rings.
Wash the carrots, peel, cut into strips.
Pour vegetable oil into a pan, heat it well. When the smoke starts to go, pour the onion, fry until transparent. Then add carrots, fry a little more.
Put the fried onions and carrots in a bowl of asparagus. Add vinegar, salt, black pepper. Squeeze the garlic through the garlic press. Mix well.
Let the dish brew a little and you can eat.
Bon Appetit!
Also Like
Comments for "Korean Asparagus"