Korean Zucchini
by Editorial Staff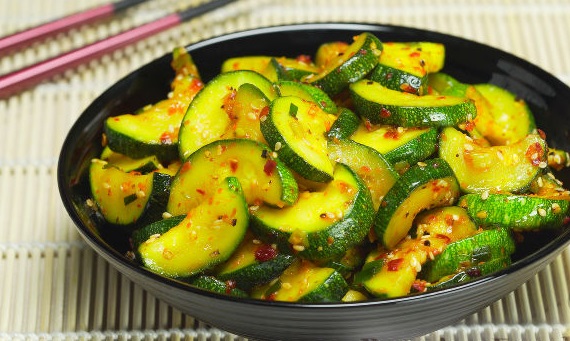 Korean zucchini is an appetizing appetizer or juicy side dish, spicy, moderately spicy, and aromatic. Be sure to cook this simple and at the same time unusual Korean dish, especially since it will take you very little time to prepare it.
Ingredients
Zucchini – 500 g
Green onions – 15 g
Garlic – 2 cloves
Sesame oil – 2 tablespoons
Fried sesame seeds – 1.5 tablespoons
Salt – 2 tablespoons
Sugar – 1 tablespoon
Ground black pepper – 1 teaspoon
Ground red pepper – 1 tablespoon.
Vegetable oil – 1 tablespoon.
Directions
Cut the zucchini into semicircles, season with salt, and let stand for 30 minutes.
Rinse the zucchini from salt and squeeze a little.
Preheat a frying pan, add 1 tablespoon. vegetable oil and put the zucchini in a frying pan.
Finely chop the green onions and garlic – add to the courgettes. There – sesame oil, salt, sugar, ground black pepper, red pepper. Stir and fry over medium heat for 3 minutes.

Add sesame seeds and fry the zucchini for another 2 minutes.
Enjoy your meal!
Also Like
Comments for "Korean Zucchini"