Fish "Heh" in Korean
by Editorial Staff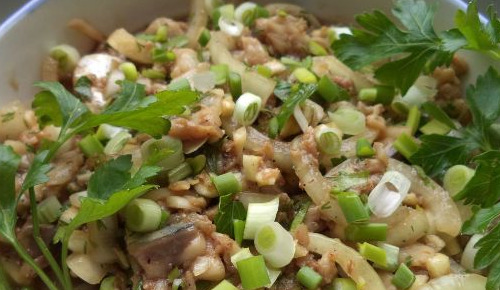 The famous Korean dish is fish heh. Its recipe is simple and quite affordable for home cooking.
Cook: 3 hour
Servings: 4
Ingredients
Fish fillet – 300 g
Medium onions – 4 pcs.
Garlic – 5 cloves
Ground coriander – 1 teaspoon
Salt – 1 tbsp
Ground red pepper (hot) – 1 tbsp
Sugar – 2 tbsp
Vinegar 9% – 5 tbsp
or essence 70% – 1.5 tbsp
Vegetable oil – 2 tbsp (to taste)
Greens – 1 bunch (to taste)
Soy sauce – 1 tbsp (to taste)
How to cook fish-hee in Korean:
Directions
Peel the fish, gut, separate the fillets, cut into cubes.
Put the fillets in an enamel or glass dish, pour over vinegar (or vinegar essence), close the container tightly, and marinate for 2 hours.
Peel, wash, cut the onion into rings, half rings, or checkers.
Peel the garlic, chop finely.
Wash greens and chop finely.
Squeeze the fish out of the liquid, put it in a bowl.

Place the chopped onion and garlic on the fish.
Then add coriander, black pepper, sugar, salt.
Preheat a frying pan, pour in vegetable oil. Add red pepper to hot oil, stir and immediately remove oil from heat.
Pour the fish over with hot oil and red pepper fried in it. Mix. Also, season the fish with herbs and soy sauce.

Mix gently and let the Korean-style he brew for half an hour.
Enjoy your meal!
Also Like
Comments for "Fish "Heh" in Korean"