Fried Korean Dumplings
by Editorial Staff
Be sure to try the Korean dumplings called mandu. It turned out very tasty, the dough is excellent! And the filling is just a song! Two types of meat, a subtle taste of garlic, juiciness from mushrooms and onions! It must be cooked! By the way, the Mandu recipe is very popular. Korean dumplings can be boiled in broth or steamed, and we will cook fried dumplings with meat and mushrooms!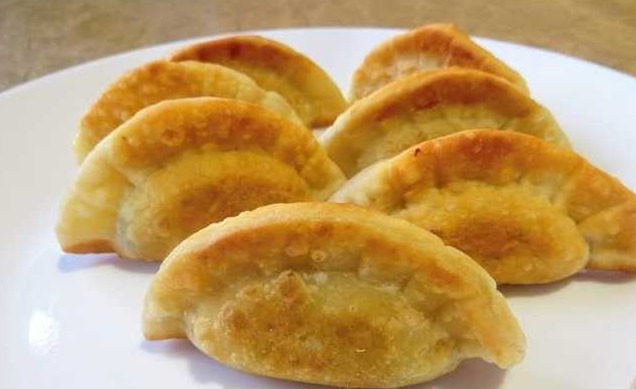 Ingredients
For the dough:
Flour – 260 g + for working with dough
Water – 1/2 cup (~ 100 ml)
Egg – 1 pc.
Vegetable oil – 1 tbsp
Salt – 1/2 teaspoon
For filling:
Minced pork – 150 g
Minced beef – 150 g
Fresh champignons – 70 g
Green onions – 1 bunch
Bulb onions (small) – 1 pc.
Garlic – 2 cloves
Soy sauce – 1-2 tbsp
Vegetable oil – 1-2 tbsp
Salt to taste
Ground black pepper – to taste
For frying:
Directions
Combine water, salt and vegetable oil in a ladle. Bring to a boil.
Pour half of the flour into a bowl, make a depression and pour boiling water and oil there, stirring quickly with a spatula (carefully so as not to burn yourself).
As soon as the dough cools a little and gathers into a lump, add the remaining flour and the egg.

Knead for a few minutes and get a soft, elastic dough.
Cover the dough with foil and set aside for 30-60 minutes.
Let's take care of the filling.
Chop the green onion.
Cut the champignons into small cubes.
Cut the onions into small cubes.
We collect in a large cup: green onions, onions, mushrooms, minced meat, garlic (pressed through a press), salt, black pepper, soy sauce and vegetable oil. Mix everything well. The filling is ready!
Knead the finished dough and divide into 2-3 parts. Roll flagella from each part of the dough on a table dusty with flour and cut them into pieces, like into large dumplings.
Roll out the circles.
Now put 1 teaspoon of the filling and form dumplings-pies with meat and mushrooms. I have a special sculpting device (bought in a supermarket).

You can just make a little cheburek.
We fry Korean dumplings in a small amount of heated oil, from three sides, starting from the bottom of the "chebureks" dumplings. Moderate heating (medium).
When the dumplings are fried on all sides, add 2-3 tablespoon to the pan. spoons of water and cover with a lid. Reduce heat to low and cook fried mandu dumplings for another 5-7 minutes.

Juicy, bright and very satisfying! Korean fried meat and mushroom dumplings are hungry without stopping!
I am satisfied with the recipe and recommend it to everyone!
Also Like
Comments for "Fried Korean Dumplings"