Dumplings with Fried Onions
by Editorial Staff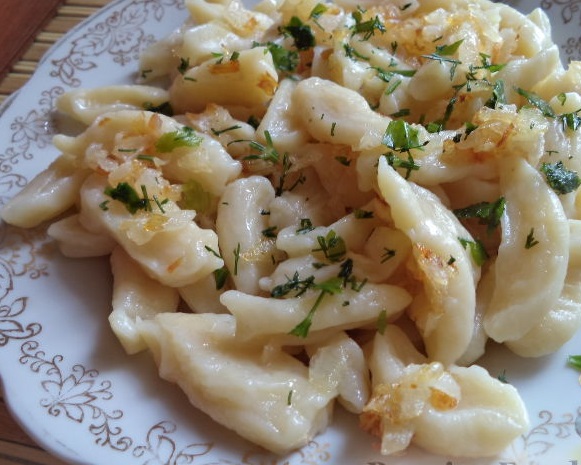 According to this recipe, dumplings are served as a separate dish, with fried onions.
Ingredients
Flour – 2-2.5 cups
Bulb onions – 4-5 pcs.
Eggs – 1-2 pcs.
Salt – 0.5 teaspoon (to taste)
Vegetable oil – 4 tbsp
Water (for dough) – 1 glass
Directions
Before you cook dumplings with onions, you need to prepare the food.

Sift flour. Add salt; beat in an egg; add water; stir with a spoon; use hands to knead the dough like into dumplings; leave the dough for 20 minutes (cover with a towel).
Peel, wash the onion. Cut in small pieces. Preheat a frying pan, pour in vegetable oil. Lay out the prepared onion. Fry over medium heat, stirring occasionally, until golden brown.
Divide the dough into 3-4 parts. Roll each part into a thin sausage.
Cut dumplings with a sharp knife (about 0.5 cm thick).

Boil 2.5 liters of water. Salt. Dip the prepared dumplings into boiling water. Cook them. To do this, bring to a boil while stirring. After surfacing, cook dumplings for another 5 minutes.
Throw the dumplings in a colander.

Put the ready-made dumplings in plates, pour with overcooked butter and sprinkle with fried onions.
Enjoy your meal!
Also Like
Comments for "Dumplings with Fried Onions"