Fried Sauerkraut with Onions
by Editorial Staff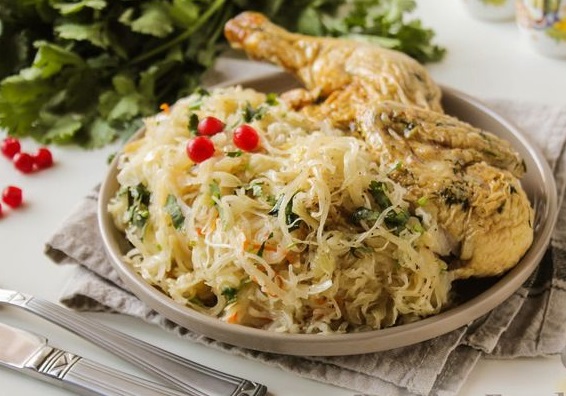 This sauerkraut is prepared from two main ingredients very quickly, simply, with a minimum of effort. The result is a wonderful vegetable side dish – a godsend for fasting and vegetarians. It is good to serve such a cabbage with a golden crust with poultry and meat.
Ingredients
Sauerkraut – 400 g
Onions – 150 g (2 pcs.)
Ground black pepper – 0.25 teaspoon (to taste)
Parsley – 20 g (4-5 sprigs)
Vegetable oil (for frying) – 30 ml (2 tablespoons)
Salt – as needed
Directions
Sauerkraut can be purchased or cooked at home.

Heat vegetable oil in a frying pan, put onion, peeled and chopped into medium cubes.
Bring the onion over medium heat until golden brown (4-5 minutes).
Squeeze cabbage juice, add cabbage to the onion.
Stir and fry all for 5-10 minutes.
Season with pepper and simmer for 1-2 minutes. Salt is generally not needed. But try it and decide on your liking.
Finally, sprinkle the cabbage with chopped fresh parsley.

Fried sauerkraut with onions is ready. Serve hot or chilled. In addition, such cabbage is a delicious filling for pies, dumplings, a base for cabbage soup and cabbage.
Enjoy your meal!
Also Like
Comments for "Fried Sauerkraut with Onions"